« August 2005 | Main | November 2005 »
September 30, 2005
Phone unlockers versus the DMCA
Cory Doctorow
: A mobile phone company is arguing that companies that unlock their handsets violates the DMCA. They argue that the software on the phone is a copyrighted work, and the unlocker is breaking DRM in a way that violates the statutory prohibition on circumvention. Nice try -- but the courts already rejected that theory when Lexmark tried to apply it to people who refilled printer cartridges (copyrighted printer cartridges! What chutzpah!)
Last week, I was contacted by a small company that I'll call Unlocko. Unlocko sells software that "unlocks" mobile phones so owners can select different cellular providers on the same handset. The company had received a cease-and-desist letter from a large mobile phone provider, which I'll call CellPhoneCo.

Like most U.S. cellular providers, CellPhoneCo electronically locks the handsets it sells so the phones can only be used with CellPhoneCo's service. CellPhoneCo claims that the sale of unlocking software is illegal.

The financial motive behind this claim is obvious. Companies have been using the razor blade business model to guarantee a steady stream of revenue ever since, well, the razor blade. Cell phone companies sell you a phone at a discount, and then make up the difference by requiring you to sign a multi-year contract promising to pay monthly fees for mobile phone service or to fork over a hefty termination penalty if you break the deal.
Posted by dymaxion at 12:59 AM | Comments (0)
Boom
If the radiance of a thousand suns were to burst forth at once in the sky, that would be like the splendor of the Mighty One... I am become Death, the destroyer of worlds.
---> part one and
Part two
of Operation Crossroads, one of many atomic testing operations conducted during WWII, documented extensively on film and preserved in excellent condition here at the Archive. For further viewing:
Operation Ivy
, the testing of the first hydrogen fusion bomb.
Operation Cue
(1955 version), testing bomb damage done to housing and infrastructure.
Special Delivery
, a look at the preparation and technology, especially planes, used for the testing.
Duck and Cover
, a classic safety film from 1951 detailing the best schoolyard response to a nuclear attack. Caution! Interesting, disturbing, and at least an hour's worth of viewing!
Posted by dymaxion at 12:29 AM | Comments (0)
September 29, 2005
Metropolis magazines 2006 Next Generation Design Competition : Competitions
An application for our 2006 Next Generation Design Competition, which closes December 15. The competition offers $10,000 in seed money to an emerging designer with a "big idea" that will make our environment better, safer, and more sustainable.
Posted by dymaxion at 11:38 PM | Comments (0)
The Beginnings of a U.S. Government DNA Database
From the Washington Post: Suspects arrested or detained by federal authorities could be forced to provide samples of their DNA that would be recorded in a central database under a provision of a Senate bill to expand government collection of...
Posted by dymaxion at 11:31 PM | Comments (0)
Kodak Ships EasyShare-One with Wi-Fi
Kodak announces (but doesn't ship) the camera a few days early: The camera, delayed by months, was scooped by two models from Nikon which have Wi-Fi but relatively poor network options. The EasyShare-One takes its place as the third camera shipped (second by brand), but has a much larger scope to its network purview.
The press release says it's the first consumer Wi-Fi camera to ship to retailers, but that's so clearly not the case. Checking the Nikon P1, announced Sept. 1, I see that it's not in stock at any major retailer; the Nikon P2 (the less-expensive, lower megapixel version) is readily available. Kodak says their camera will be available in days to consumers.
The $599 camera includes Kodak's 802.11b Wi-Fi SDIO card; you can see it protruding from the top of the camera in the publicity photo. The first release of this card includes just WEP support. WPA and 802.1X support are due "later," so good luck all you folks with appropriate WPA security enabled in using this camera on your network. On public networks, there's no mention of security, and I'll be curious whether there are FTP or other transfer options involving encryption, and whether the EasyShare Gallery access encrypts your username and password.
The camera is designed to transfer images and video to Kodak's photo service, to view images stored on a PC (over the Internet or a local network, it's unclear), and to view photos and galleries at EasyShare Gallery.
Without the 802.1X module and other authentication support, this camera won't be able to use authentication pages that allow access even to networks that just require one to click Accept for free network policies. Kodak says in the press release that they're working with outdoor venues to support the camera.

Update: The fine folks at Engadget are experiencing the heartbreak of figuring out whether Wi-Fi is included. Their post (with its crossed-out lines and comments) is a pretty good record of how Kodak has mishandled this detail. In Jan. 2005, when this camera was announced, the price was set at $599 plus $99 for an optional (but essential) Wi-Fi card. I heard no more about pricing until yesterday, when Kodak's press release (linked above) noted that the Wi-Fi module was included.
However, as you visit the EasyShare-One pages at Kodak.com, you'll find a variety of statements like "requires optional Wi-Fi card" or "additional options" including Wi-Fi. I'll rely on the press release until I hear otherwise: "EASYSHARE-ONE model (US$599 MSRP, including the KODAK WI-FI® Card)."
Update: Walt Mossberg at the Wall Street Journal finds the camera's Wi-Fi reliability low, and the computer-based software for transferring images required handholding and tweaks that he felt were beyond a reasonable expectation for a normal user. Battery life he rates as poor: one hour when using Wi-Fi, four when viewing stored photos, and 200 shots while taking pictures. Two batteries are included, which is unusual for a digital camera--probably in recognition of this short battery life.
Posted by dymaxion at 11:22 PM | Comments (0)
"We Realize You Have a Choice of Bankrupt Airlines ..."
From a post on Fury.com today: "We realize you had a choice betwen several bankrupt airlines to fly today, and we thank you for choosing our bankrupt airline." -- my Delta Airlines pilot this morning...
Posted by dymaxion at 10:48 PM | Comments (0)
U.S. Wont Give Up Control of Internet
Well, you didn't really think that the U.S. would actually hand control of the Internet over to the U.N. did you? Sheesh, which is the lesser of two evils there? It's like deciding if tweedle-dee or tweedle-dum should safegaurd the web...
"We will not agree to the U.N. taking over the management of the Internet," said Ambassador David Gross, the U.S. coordinator for international communications and information policy at the State Department. "Some countries want that. We think that's unacceptable."
Yeah, i'll just BET you find that unacceptable...
Posted by dymaxion at 10:38 PM | Comments (0)
Skype 1.4 Due Out Soon With New Features and Revenue Tools
Later this week Skype for Windows version 1.4 will come out of beta. Largely it's about two key features. The first is Skype Forward while the second is the ability to personalize Skype while the last two are better Skype buttons for web sites and Skype Toolbars for Outlook and Internet Explorer.
Now what the first two mean are obvious. $$$$. Skype needs to start selling minutes in greater frequency and volume. Skype Forward eats up Skype Out minutes. The Personalization options are also for sale in the Skype store.
Posted by dymaxion at 10:36 PM | Comments (0)
Skype Does Some Research
I had a chance to talk to the new CMO @ Skype Saul Klein. He revealed some very interesting facts during our Skype call this morning:
Global IM survey
Conducted by:Lightspeed Research
Sample Size:4,704 from US, Brazil, China, Poland and UK
Collected from: Aug 26th to Sept 6th
>> Skype is used by 25% of users primarily for business, compared to 16% for MSN
>> Skype users are more international than others, 85% have contacts living abroad compared to 51% for AOL users
>> Skype is used once or several times a day by 76% of users, compared to 65% by Yahoo! and 63% by MSN users
>> The usage gap is even larger for making calls, with 35% of Skype users doing this once or several times a day, compared to 29% for Yahoo! and 24% for MSN
>> 72% of Skype users consider call quality to be good to excellent, compared to 68% with Yahoo! and AOL and 63% with MSN
>> Skype's users are keen to adopt new features, with 73% interested or very interested in adopting call forwarding compared to 59% from Yahoo! and MSN and 49% from AOL
>> Skype's users are keen to adopt new features, with 79% interested or very interested in receiving calls from landlines compared to 64% from Yahoo!, 65% from MSN and 51% from AOL
Each day Skype is behaving more and more like a consumer brand. Yesterday they began using a PR firm, SparkPR which has very good credentials and a track record of professionalism.
Klein too has an impressive background, and word is he was a Niklas hire, not brought in by Meg @ Ebay.
Posted by dymaxion at 10:36 PM | Comments (0)
Music Industry Threatens to Pull Plug on Apple
Getting uncomfortable with Apple's market power. First the music industry informed Apple's Steve Jobs they wanted to charge more than 99 cents for popular tracks, leading Jobs to suggest the industry was "getting greedy". One music exec responded by stating the music industry wasn't greedy, they j..
Posted by dymaxion at 10:22 PM | Comments (0)
What's Safe?
Another example of why you can't really trust software to tell you whether a website is dangerous or not. The Register reports that a Trusted search software labels fraud site as 'safe':
Digital certificate firm GeoTrust's launch of a search engine with built in trust features this week has been marred by the classification of a phishing site as genuine. Powered by Ask Jeeves, GeoTrust TrustWatch search aims to protect users against fraudulent behaviour and phishing attacks by giving web sites a verification rating. It's a laudable aim, but the classification of a recently created phishing site as "verified as safe" raises serious doubts about the effectiveness of the technology. Such incorrect classifications create a false sense of security that can only play into the hands of would-be fraudsters.
As I've explained elsewhere, it's more dangerous to offer a service that claims to warn you about phishing–related and other dodgy websites if you can't guarantee 100% success, as it merely lulls a user into a false sense of security. Another reason why these things won't work is the false positive, which EarthLink found to its (temporary) cost.
Posted by dymaxion at 09:46 PM | Comments (0)
Roll Your Own Search Engine with Rollyo
With Rollyo, you create search engines that search only the sites you specify. Say, for example, you've got a a favorite group of sites like Lifehacker.com, 43folders, ask.metafilter.com and so forth. Build a new "search roll" by listing up to 25 sites. You can then use that search roll to limit search terms to just those sites.
After building a search roll, you can "publish" it to share it with other users or choose Explore to see what kinds of custom search engines other people have built. Already the most popular search rolls include Media Buzz, Digital Cameras, and Parenthood.
Posted by dymaxion at 09:21 PM | Comments (0)
Why Skype-eBay was the Worst Kept Secret On Wall Street
There were some curious movements in the eBay stock just before the Skype deal was announced. Hitchhiker's Guide to 650 points out
When the rumors came out last thursday on the Skype acquisition, eBay stock dropped 3.8%. With 1.35B shares outstanding and each share losing $1.53, eBay lost about 2.07B in market cap. With the overall market being flat that day, the 2.07B lost in market cap can probably be attributed to the Skype rumours.

It means that the traders on Wall Street knew way before the "tech crowd" (as we debated the merits of the acquisition) that the acquisition was a foregone conclusion by Thursday closing. With little downward movement in the eBay stock price today (except at opening) the traders essentially covered their shorts/puts early in the morning, taking profits before Meg talks up the acquisition (and the eBay stock goes up)…..

The question I have is who leaked the rumors? Someone at Merrill (eBay advisor), Morgan Stanley (Skype advisor), Skype, and maybe eBay must have really lose lips for traders to be so certain that this transaction would happen.
However,
a post over on Skype forums
says that the leak might have come from a cabbie in New York who overheard the eBay Executives. And you thought they didn't understand english….
I kid you not — the week before the announcement, we received a comment in our Customer Support from some NYC taxi driver about eBay acquiring Skype, and we downplayed this as a rumor, which is what it still was for us at that time. The taxi driver replied "look gentlemen, you may disregard it all you want, but I know the facts since I just gave a ride to some eBay execs who discussed exactly what would be happening". Can't validate if the story is really true, but looking back, it turned out to be true and funny nevertheless.
Posted by dymaxion at 09:14 PM | Comments (0)
September 27, 2005
A channel changer for the Bloglines river of news
Blog readers offer two basic navigational styles. There's the two- or three-pane format that's also commonly used in mail clients, and then there's what Dave Winer has called the
river of news
format, where everything appears in one scrollable view. I favor the latter for the reasons Dave cites:
To me, this more approximates the way I read a print newspaper, actually it's the way I wish I could read a print newspaper -- instead of having to go to the stories, they come to me. This makes it easier for me to use my brain's powerful scanning mechanism.
So I use Bloglines in "river of news" mode, which is invoked by the doLoadAll function that's attached to the
n Updated Feeds
link. You can make this the default using a
simple Greasemonkey script
from Mark Pilgrim, by the way. But note that if you do, an instance of Bloglines left running in one browser will consume all unread items, and leave none for another instance running elsewhere.
...
Posted by dymaxion at 01:11 AM | Comments (0)
Google Print Library: Clash of the Titans (Donna Wentworth)
Via Siva Vaidhyanathan, Andrew Raff's round-up of weblog commentary on the Google Print library lawsuit, highlighting the sharp differences of opinion among people who typically agree. To wit:

It is 1976 all over again. Then, like now, content owners turned to the courts to stop an extraordinary new technology. Then, like now, copyright is the weapon of choice. But then, like now, the content owners of course don't really want the court to stop the new technology. Then, like now, they simply want to be paid for the innovations of someone else. Then, like now, the content owners ought to lose.
gle's use is fair use. It would be in any case, but the total disaster of a property system that the Copyright Office has produced reinforces the conclusion that Google's use is fair use. And for all those people who devoted years of their life to defend the right to p2p file-sharing — here's your chance to show what this battle is really about:
Google wants to do nothing more to 20,000,000 books than it does to the Internet: it wants to index them, and it offers anyone in the index the right to opt out. If it is illegal to do that with 20,000,000 books, then why is it legal to do it with the Internet? The "authors'" claims, if true, mean Google itself is illegal. Common sense, or better, commons sense, revolts at the idea. And so too should you.

...and Siva himself:


...[This] whole thing looks like a dark, gathering storm. It's not just Google betting the company. It's Google gambling with all of our rights under copyright -- both as copyright producers and users. Many good things could be washed away. This case strikes at the heart of both Google and copyright. It's not some clever fair use algorithm. It's not just one in a string of cases that will slightly expand or slightly constrict users' rights (and, please remember, users are not a party to this suit). It's about the very defining essense of copyright and about corporate copying on a massive and unprecedented scale.

Michael Madison's
latest post
in some sense serves to bridge the two:

We agree on the stakes; we disagree on the tactics. How do we protect users' rights and the public domain?
at the public domain cannot sue to protect itself. (Note the echo of environmental law.) Individual users can sue to protect their interests in the public domain, but we've seen first-hand the limits of that strategy. Regardless of your view of the merits of Eldred v. Ashcroft, it was pretty difficult for Eldred's legal team to get more than 2 members of the Supreme Court to see why any of this mattered.
The next best strategy is to enable proxies to stand for the public domain. Proxies are imperfect in lots of ways, but one thing they have — especially if they happen to be large corporate entities — is a business model that depends on access to information.
...[If] we recognize Google as a proxy, then I continue to believe that sometimes you fight the fights that need fighting, not just the fights you can win.
[...]
I haven't been an academic so long that I've lost the litigator's sense that sometimes, a case deserves to be litigated and maybe even tried. I think that this is one.

Posted by dymaxion at 01:05 AM | Comments (0)
Latest in Oracle's dirty tricks campaign
I was speaking with some folks in our Washington D.C. office and they gave me scoop on the latest installment of Oracle's Dirty Tricks Tour 2005, an effort by Larry and Company to derail SAP's dominance in Federal government and Department of Defense business. This rather pathetic effort is based on the fact that SAP is a German headquartered company (who knew, if you walked through our Palo Alto campus you might think we were an Indian or Chinese company) and the second well worn observation that German Chancellor Shroeder opposed the Coalition's war in Iraq. Their conclusion is that a German company is therefore no longer fit to provide software to the DoD, go figure.
Now it's one thing to switch from Bordeaux to some domestic wine, but another thing altogether to stop using the software that the military runs their operations on (and I shouldn't have to remind anyone that U.S. military logistics is hands down the best in the world, in no small part because of the technology they have deployed). More to the point, SAP is a global company with almost 6,000 employees right here in the U.S.A., and many of those SAP employees don't have time to consider German politics because they are too damn busy working hard every day building and delivering software applications for the U.S. military, Homeland Security, DLA, and a myriad of other agencies and acronyms.
More troubling about these insinuations is that they obscure the fact that Oracle itself has been selling software to Syria and Iran, 2/3 of the Axis of Evil, through third parties. Oracle has a strong presence in the Middle East through a partnership with Global Technology Services. Oracle maintains a listed sales contact for Syria, where it closed a major deal with Syria Telecom in 2004. In Iran, Oracle serves the market through a local partner, Basa; it is estimated that Oracle has approximately 5 Iranian customers, with the most publicized implementation being at Esfahan Zobe Ahan, a steel production company. Oracle is a visible brand presence in Iranian newspapers. So if anyone wants to have hearings in Congress to evaluate the patriotic inclinations of software vendors, bring it on.
Link: The Center for Security Policy.
At the very least, the Marines could use help from the Air Force if it comes to blows with Iran. That may only be possible, however, if someone decides our airmen - unlike their Army and Navy counterparts -- should be supported by software that doesn't give Germany a veto.
Posted by dymaxion at 01:01 AM | Comments (0)
Armed attack dolphins loose in the Gulf of Mexico?
You know, sometimes we lose things here and there — a key, the toll slip on the interstate (damn!), our wallet (double damn!). But the U.S. military — they've one-upped us by losing some armed attack dolphins. Apparently 36 of the U.S. Navy's trained cetaceans have gone missing in the Gulf of Mexico, could be wearing special harnesses carrying "toxic dart" guns (can't be good), and have been trained to shoot at divers in wetsuits simulating terrorists in exercises. Their coastal compound was breached during Hurricane Katrina, sweeping many of the mammals out to sea, and though the Navy isn't confirming it, sources close to naval intelligence confirm that perhaps now is not the time to take that underwater pleasure diving excursion in the Gulf — not that it's exactly the place to be, anyhow.

[Via Futurismic]
Read | Permalink | Email this | Linking Blogs | Comments
© 2005 Weblogs, Inc.
Posted by dymaxion at 12:54 AM | Comments (0)
Bush administration threatens veto against Geneva Convention.
Bush administration threatens veto against Geneva Convention.
After hearing about
the latest torture scandal in Iraq
, Republican Armed Services Committee Senators John McCain, John W. Warner, and Lindsey Graham are seeking an amendment to a defense bill which would require the military to abide by the Geneva Convention... but the Bush administration is reportedly opposed to any such legislation, and have threatened to veto it. To make matters worse, many
prominent Congressional Republicans
are also opposed to abiding by the Geneva Convention, to the point that overturning such a veto is far from assured.
Posted by dymaxion at 12:50 AM | Comments (0)
Real men have fabs. . .chipmakers profit from making their own
By Tom Foremski for SiliconValleyWatcher
There was an interesting presentation by Bryan Lewis, chief chip analyst at Gartner Dataquest, at the recent Infineon media and analyst conference. His presentation and discussion with Robert LeFort, president of Infineon North America, indicates a trend against fabless chipmakers. [Infineon is a founding sponsor of Silicon Valley Watcher.]
For more than 20 years the rise of the fabless chipmaker has been a seemingly unstoppable trend. Fabs these days cost $2bn or more and are difficult to operate and you have to run them at near full capacity otherwise you lose lots of money.
It makes perfect sense to outsource the manufacture to foundries, which focus on perfecting the many manufacturing processes during the three month long production process required to create today's advanced chips.
But many chipmakers were reluctant to go fabless. In the early 1990s, T.J. Rodgers, head of Cypress Semiconductor, said "Real men have fabs," and this phrase was taken up by others, including Motorola, Advanced Micro Devices and Intel. It represented a catchy backlash against the fabless trend.
However, it is is difficult to argue against the economics of the fabless business model. A catchy phrase doesn't change the fact that fabs are extremely expensive and difficult to run effectively.
Why outlay more than $2bn in capital costs to build your own fab when you can email your chip design to a foundry in Taiwan or Singapore and collect your chips 90 days later?
Fabless and fabulous
That's why fabless chipmakers have done very well. For example, Qualcomm and Broadcom are fabless and are among the top ten chipmakers worldwide by revenue. And there are hundreds of other fabless chipmakers.
Owning your own fabs is something that Infineon has continued to do despite the strong argument for a fabless business model. Intel, AMD, IBM and others also build and operate their own fabs. And many of the chipmakers partner on fabs, or jointly work on research projects developing new manufacturing processes.
Now, as we push Moore's Law ever onwards, the pendulum seems to be swinging towards fab owners. What has changed is that there is a strong link developing between the design of the chip and the manufacturing process.
Each fab makes its chips slightly different from other facilities. It is all partly black magic in that the settings on the many machines make a big difference in how many good chips can be cut out of a silicon wafer.
This connection between design and the manufacturing process is much tighter these days than ever before. And optimizing chip designs to fit your fab is becoming a competitive advantage.
However, fabless chip companies mostly use design tools that do not take into account the many subtleties of the manufacturing process at their foundry. Yet the atomic scale geometries of today's chips are affected by tiny variations in the production process.
This means that those chipmakers that own and operate fabs will be at a competitive advantage over those that don't. They will get much better yields of good chips to bad chips. T.J. Rodgers was right [eventually:-) ].
Posted by dymaxion at 12:37 AM | Comments (0)
Cringely Questions AdWords
I've run across many a speculation on what levers and dials the folks at Google are pulling behind the AdWords curtain. This is another one, and begs the question: can we have a bit more transparency?
One of my readers makes his living selling goods over the Internet, and his sole means of obtaining customers is through Google AdWords. His business is robust for a one-man operation and he makes a good living. Knowing the actual numbers, I would say he makes a VERY good living, which shows the effectiveness of Google and AdWords as an advertising medium.
can never make enough money, it seems, so this reader decided to do some research to see if he could improve his results by modifying this and that. He decided that the best way to conduct this research was not by altering variables on his existing, very profitable web site, but by creating a separate site purely to be used for these tests.
Clearly ,this is a behavior that the big brains of Google did not expect.
Posted by dymaxion at 12:26 AM | Comments (0)
Pubsub to measure by categroy!
I am going to race over to Pubsub as soon as I hit publish on this and take a look at a service that is supposed to be rolling out today. They are going to be releasing a tool that allows you to measure blog effectiveness by category. Pretty powerful stuff and could help some of you attract specific advertisers and really get the ad rates you deserver for your targeted audiences. [Pubsub] [ClickZ]
Posted by dymaxion at 12:09 AM | Comments (0)
The Great Internet Transformation
Kevin Werbach offers an explanation for the emerging world:


Something tells me the model of the Internet and communications world we've followed since the early 1990s may be falling appart.
at connectivity, applications, and content are distinct technical, business, and regulatory spheres. I'm one of the culprits, as an advocate of the "layered model" for Internet policy. But if you go back to Mary Meeker's seminal "Internet Report" in 1995 (written, she told me, because so many prospective investors she met on the Netscape IPO road show were completely clueless about the Internet), you'll see the same pattern: infrastructure businesses (ISPs), application businesses (search, advertising, and e-commerce), and content businesses. The only company that seriously spans all those markets today is AOL Time Warner... and look where it got them.
Soon, though, most of the major Internet players are likely to be hybrids of two or more layers. Google and eBay will be infrastructure and applications; Yahoo! and News Corp. will be applications and content; telephone, wireless, and cable operators will be infrastructure nad content; Microsoft and Time Warner will span all three levels. And that's just what we've seen announced so far. In this market, everyone is in play.
...
It does sound as though all of us excited about the "Web 2.0" vision of open standards built on top of open standards, facilitating mashups and lightweight innovations all around, might want to question our assumptions. Yes, that is where we have been heading, but it might not be where we ultimately go. If GoogleNet, SkypeBay, MSAOL, Telco Fiberia, and CableLand emerge as competing integrated fiefdoms, we'll see something more like the early 90's online services, albeit on a much bigger stage.

Posted by dymaxion at 12:00 AM | Comments (0)
September 26, 2005
New Rules in China Affect "Internet News"
More heartwarming news China: China sets new rules on Internet news, is a story in the Washington Post that has these small snippets of what the "new rules" for internet news mean:
"The state bans the spreading of any news with content that is against national security and public interest," the official Xinhua news agency said in announcing the new rules, which took effect immediately.
The news agency did not detail the rules, but said Internet news sites must "be directed toward serving the people and socialism and insist on correct guidance of public opinion for maintaining national and public interests."
Lovely...
Posted by dymaxion at 11:46 PM | Comments (0)
Feedshot - New Blog Submission Service
I received a mail from Rob W. - creator of Feedshot who tipped me off to his new service, FeedShot. Looks pretty cool, and thought it definitely worth a mention.
While submissions to search engines is not necessarily a new idea, I haven't seen too many for blog search engines...and hey, it's free! I'm sure he'll be adding to it, so it's certainly a nice site to watch if you do any type of blog promotion.
I've just launched a service called FeedShot that submits an RSS or Atom feed to 17 blog search engines. It covers all the major engines (DayPop, Feedster, IceRocket, and Technorati), and the list is expanding every week. The service is free, and it's set up to do the initial submission for a feed, rather than as a pinging service. The best part is a report indicating which submissions were successful, which failed, and which were duplicates.
Posted by dymaxion at 11:45 PM | Comments (0)
Newsweek on eBay/Skype
Newsweek has an article on the eBay/Skype deal. What's interesting is that Meg Whitman used the regular phone for the interview.
I guess she heard what happened at VON.
Posted by dymaxion at 11:42 PM | Comments (0)
Stately progress
Techdirt gives an update on the progress of reforming the 1996 Telecom Act in the USA:
Now, the U.S. House of Representatives Energy and Commerce committee introduced their own thoughts on reforming the Telco Act of 1996. Again, this bill seems to have a lot of good ideas in it. It takes the states out of the process (which the states will hate), and gives the regulatory power to the feds. This is a good thing, in that it keeps providers from having to obey fifty different sets of laws in order to offer nationwide service.
I don't agree. One lesson from living in the European Union is that competition between regulatory dominions and tax laws is a good thing. Much as the eurocrats hate it, ideas like the flat tax would be stuck in academia if countries like Estonia hadn't got in there first and done it before it could be 'harmonised' away.
Fixed connectivity is, by definition, a local issue. I don't see why any supranational or federal rules need be made, beyond ensuring adequate ability of companies to compete across across state boundaries. You need local presence to create the local access network, and you shouldn't be surprised if you have to adhere to the local rulebook.
Far better to have many experiments in unbundling, municipal networking, etc. and see what really works. Why create a single point of failure in advancing your communications infrastructure by allowing lobbyists to buy laws to outlaw progress nationwide?
The only market that requires contiguous, "flat" regulation is mobile connectivity. Note I say connectivity, not telephony, which is an application. Here, the "50 sets of rules" problem becomes more of an issue; users physically move around between jurisdictions, and it's important that network architecture is uniform. You shouldn't, for example, need to block access to smut for just Utah customers whilst having to simultaneously support net neutrality rules for Californians standing next to them.
The applications are better off being subject to jurisdictional competition. Just as American companies like to incorporate in Delaware, and European ones in the UK and Luxembourg, we should allow application services to be governed by a jurisdiction of their choice. Regulatory rules come with costs and benefits, and it should be the end customer who gets to choose the right balance.
Posted by Martin at 10:33 PM
---
Comments:
(
post your comment
)
Alec Saunders
@ September 25, 2005 12:16 AM:
Brilliant. Three thumbs up.
Richard Stastny
@ September 25, 2005 03:46 PM:
but not new. What you are basically proposing is the layers model of regulation (e.g. the MCI proposal from Whit). European regulators will like the idea to give up all powers and be reduced to LLU issues.
What is new in you proposal is to layers also the responsibility of the regulators:
L0 (ducts and right-of-way - see Brough Turners presentation at the VON) is on the village level
L1 . disctrict level
up to
L7 - applications (= regulating Google, eBay, etc) is on the UN or ITU level ;-)
atomore sylvester
@ September 26, 2005 09:25 AM:
please would like to come to the program and please kindly help me to know how i'm going to do,and more over pleaseif there any thing that i should do,please let me know,thank you so mcuh..
Posted by dymaxion at 11:34 PM | Comments (0)
Secure Google Wifi?
Following the Web Accelerator debacle, Google wants another crack at your entire internet traffic. This time, its through the Google Secure Access client.
Located at wifi.google.com, GSA connects you to a Google-run Virtual Private Network. Your internet traffic becomes encryptedwhen you send it out, decrypted by Google, the requested data downloaded by Google, encrypted and sent to you, and decrypted on your maching. This has the effect of protecting your traffic data from others who may want to access it. GSA's FAQ describes it as a Google engineer's 20% project.
From the FAQ:
Google Secure Access is a new product that is only available at certain locations in the San Francisco Bay Area. We are constantly working to improve this product.
A regional test deployment. Add this to the GoogleNet bids and you've got some interesting afoot at the Circle K, huh?
Posted by dymaxion at 11:08 PM | Comments (0)
Opera v8.5 is now FREE!
"Opera has removed the banners, found within our browser, and the licensing fee."
Posted by dymaxion at 11:03 PM | Comments (0)
Google WiFi - Secure Access Software (Beta)
"Google Secure Access is a downloadable client application that allows users to establish a more secure WiFi connection."
Posted by dymaxion at 10:55 PM | Comments (0)
Homeland (WiFi) Insecurity?
Homeland security folks might be based in Washington DC, but they are not doing a good job of monitoring the government-wireless networks which are open for anyone to peruse, according to Boston-based Newbury Networks. They went on a war drive and found in-securities, literally at every corner. Amongst those were Price WaterhouseCoopers, the U.S. Senate and the Department of the Interior.
On an average, wireless devices from nearby offices abandoned their own access points every 42 seconds and associated themselves with Newbury's temporary AP. Over the course of some three hours, a total of 213 devices sought to associate themselves with Newbury's "honey pot" access point.
This was possible because of something called the promiscuous clients. By naming their access point, "linksys," they suddenly had a lot of networks/devices connecting to their access point.
And using a default setting in Microsoft Windows XP, an individual using an unapproved access point could bridge his wireless device to a promiscuous client device. If that promiscuous client were plugged into an office network, the outsider's computer could gain access to the enterprise's computer network as if it were actually the compromised device.
Posted by dymaxion at 10:31 PM | Comments (0)
May Force 10 Be With You
Force 10 Networks, the heavyweight in the 10 gigabit networks space, got some serious cash infusion today - about $40 million - which brings the total to about $300 million in five rounds of funding, with hopes to go public next year. Much of the money is going to be used to compete with Big Daddy of switches, Cisco Systems. It has a lot of traction with some heavy hitters - like CERN.
Till recently, most metro networks, you know the kinds that run in circles around big cities or underneath Manhattan, operate at 2.5 Gb/s. But the demands on these networks are only going to increase as all sorts of stuff - video, voice and data - starts cramming the pipes. Many believe that metro networks will head to 10 GB speeds soon enough. However, one thing which remains to be seen: how quickly do the prices of 10 GB gear comedown, to ignite the market.
Posted by dymaxion at 10:21 PM | Comments (0)
Users Mostly Click Top Result, Trusting Search Engines
Usability expert Jakob Nielsen points to an experiment* of how users react to the top search results. As was shown in previous studies of this type, most users -- 42% -- follow the first result shown on the SERPS (the search engine result page). ...
Posted by dymaxion at 08:36 PM | Comments (0)
Genetic Explorer
GNOM's latest genetic network explorer combines the oracle (circular) and landscape (nodal) interfaces to represent the structural description and functional relations of Escherichia Coli genes.
Posted by dymaxion at 08:33 PM | Comments (0)
September 19, 2005
Diebold Insider Comments on Voting System Flaw
Call Me Black Cloud writes "A Diebold insider is blowing the whistle on the company's continued lack of concern about security holes in its voting software. The insider wrote to Brad Friedman, a somewhat shrill political blogger, claiming the company is instructing technicians to keep quiet about the security flaws. This is despite the vulnerability being listed on the US-CERT website for the last year. A Diebold company rep admits the software can be remotely accessed via modem, but states, "it's up to a jurisdiction whether they wish to use it or not...I don't know of any jurisdiction that does that." The insider disputes that, claiming several counties in Maryland made use of the feature in 2004." This in addition to the fact that Blackboxvoting already hacked the system using a chimp last year.
Posted by dymaxion at 11:53 PM | Comments (0)
One IP Right to Rule Them All
Copyright may be the 800-pound gorilla of the Internet, but there's a brand-new pseudo copyright in the works capable of swallowing massive chunks of the public domain, bones and all.
As I understand it, the new right -- or rather, set of rights -- would give companies fresh exclusive rights on top of any existing rights for anything they "webcast" (that is, transmit by web servers over the Internet and other networks). In other words, a company could take a movie that's fallen into the public domain, webcast it, and keep the general public, to whom it belongs, from recording it. It could webcast Creative Commons-licensed songs that people have specifically earmarked for easy digital distribution and remixing, then demand that no one touch the webcast. And there is no additional creative effort necessary to accrue these rights. All you have to do is feed any combination of sound or images through a web server, and you're golden.
If you've been following the goings-on at the World Intellectual Property Organization (WIPO), you won't be surprised to learn that this new right is being negotiated behind closed doors at the urging of Yahoo and a handful of other companies, without any public debate and over the repeated protests of public interest groups and webcasters who have specifically rejected this new "protection." As CPTech points out in a new letter to members of Congress, this is a prime example US trade policy completely captured by a small group of corporate lobbyists. After all, how else could a set of rights this powerful slip under the radar -- especially when there has been, as CPTech notes,


1. No analysis of how US law would have to change in the treaty passed.
2. No analysis of the unintended consequences of creating a new right of transmission for the Internet.
3. No analysis of the impact of the new right on copyright owners.
4. No analysis or concern about how the new IPR right would affect the orphan works problem.
5. No analysis of the impact of the webcasting treaty on podcasting.
6. No analysis of whether the treaty language would unwittingly create a property right to persons operating peer-to-peer networks or search engines.

Negotiators are moving full-steam ahead, and there may be movement on this as soon as next week. CPTech has already
petitioned
the Library of Congress and US Patent and Trademark Office to slow down and invite the public into the process, but Congress may be more effective at calling on US negotiators for a time-out. I hope so.
Two quick recommendations before I go: When the treaty was released in draft form last year, Ernie Miller wrote an exhaustive analysis/critique that helps explain why these additional rights are "bad, bad, bad" -- check it out here. And don't miss Cory's post from last week, WIPO wants to give webcasters the right to steal from public domain, Creative Commons and GPL.
Posted by dymaxion at 11:47 PM | Comments (0)
Sprechen Sie Google?
A new worm, named P2Load.A, is in the wild. Once infected, users of Google's search engine are redirected to a spoofed site in Germany that looks just like the powerhouse search engine's main page. Spoofed search results include new, top-of-list links to advertisers who are not a member of Google's desired advertiser list.
Posted by dymaxion at 11:20 PM | Comments (0)
Google To Launch PayPal Alternative Soon?
There's been speculation about this before.
And here's some more
....
"According to a report in the New York Times, speculation about the new payment service arose following discussion at a conference held by analyst house Piper Jaffray, where the chief executive of a major online retailer spilled the beans."
Posted by dymaxion at 10:43 PM | Comments (0)
Google asks for GoogleNet bids
Following up on my GoogleNet piece, Google is now seeking bids for a nationwide optical network. IP Media Monitor has details here. IP Democracy reports…
The vendors who have seen Google's fiber network RFP say that the nature of the network can really only mean that Google ultimately hopes to push massive amounts of voice, video and data close to the end user.
Posted by dymaxion at 10:05 PM | Comments (0)
Enterprise Custom Software : Failure Assessments
IEEE Spectrum has a theme issue centered on enterprise custom software. failure - the kind that bankrupt companies and cost governments and whole industries tens of billions of dollars a year. Companies and governments undertake these customized IT ventures to make themselves run more efficiently and more effectively. Some of these projects are huge and extremely complex. It's now common to see multibillion-dollar efforts that take years or even decades to complete. And when that software is good, it can transform entire organizations, as companies like Wal-Mart and Dell Computer have shown.But when it's bad, it's horrid. Nobody really knows how much is wasted. In the United States, a conservative estimate is US $60 billion to $75 billion dollars every year.Future software failures are everywhere in the making. The FBI's replacement for the Virtual Case File system is on deck. The push to automate and digitize medical records looks like another breeding ground for fatal bugs. The cases discussed include the hall of shame and Sainsbury's half - a-billion doallr failed IT investment.
atgory :
Software Failures
Posted by dymaxion at 09:59 PM | Comments (0)
Nokia All Set To Take On RIM
We have been covering about increasing competition being faced by RIM and the Squeeze on RIM. eWeek reports that Nokia is all set to launch a wireless e-mail access platform that could provide the first real challenge to RIM's BlackBerry Enterprise Server. The Nokia Business Center is a behind-the-firewall software platform that lets customers read and delete corporate e-mail on their wireless devices. The main difference between it and RIM's platform is that Nokia is not charging a client license for basic e-mail access. Nokia officials said the company is targeting customers that want to deploy wireless e-mail to employees "beyond the corner office." Many BlackBerry deployments go beyond that already, but licensing costs are a common complaint. I am an active Blackberry user – but the software and the handsets have significant performance & features related issues. While I certainly like using the blackberry's pervasive connect and pushmail abilities, several times I feel that we are all being used by RIM as beta testers. Whenever I go international roaming during my frequent travels , usage of blackberry is never incident free and I can be straight – the user interface and handset features definitely SUCKS.
Nokia's solution is also expected to be cheap – one another common grouse against RIM – Nokia says that its Business Center also differs from RIM's BES in that it does not send corporate data through a NOC (network operating center) the way BES does. Customers need complete control about data that travels with features like data transfer behind-the-firewall without a third-party NOC. Its earlier Nokia One was a Web-based solution that required customers to have Web browser access on their phones, whereas the Business Center works more like push e-mail, although not exactly like it. This time around, Nokia explains, a client establishes a GPRS session, the GPRS network assigns a dynamic IP address and then the client transmits the address to the server. If the client loses the connection, it refreshes the IP address when the connection is re-established, and then the client transmits the new address back to the server. Initially the software will support mobile e-mail on a handful of Nokia's high-end phones: the Nokia 9300 smart phone and Nokia 9500 Communicator, as well as the 6630, 6680, 6681 and 6682 phones. In addition, initially it will support only Microsoft Corp.'s Exchange. IBM's Lotus Notes, Novell Inc.'s GroupWise and POP (Post Office Protocol) e-mail accounts should follow shortly. Does it open up new standards – No says Nokia as the software is Java-based, it can run on any Java-capable phone if Nokia certifies the device. With all this where does it leave RIM – Staying ahead in both hardware and software remains a major challenge. For RIM, it's a risky strategy of brinkmanship to continue to remain on its own.Better sell out -Probable suitor - wild guess - APPLE - Only this has the best capability to make improvements in Hardware, Software and also knows how to work in a niche market - a definite fate for RIM anyway in the changing wirlelss handheld market..

Category :Blackberry
Posted by dymaxion at 09:47 PM | Comments (0)
September 16, 2005
A bit of perspective As the members of Spinal Tap...
A bit of perspective
As the members of Spinal Tap said at
Elvis' grave
, "Too much f*cking perspective." I'm not sure precisely what prompted this particular Diamond Cluster mega-value reader to chime in with the amazing anecdote below, but many thanks to him in any event for allowing me to publish it. I imagine it is a combination of the SkypeBay deal, my
post chastizing telcos
in its aftermath, and perhaps, at the margin, my
earlier post
soliciting experiences of telco victims. Whatever the motivations, read it and weep...
It was the summer of 1997, AOL had only just released something called an Instant Messaging client four weeks previously. eB
ay was 18 months old, and XML was an acronym that would not mean anything for at least half a year.
Eight members of UUNET's European strategy team sat in an office in London's King Street, a stone's throw from the Bank of England. They chatted cheerfully and shook hands enthusiastically, as many of them had not met face-to-face since their respective start-ups were acquired by UUNET the previous year, creating the worlds largest ISP. The sun shone brightly through the inadequate vertical blinds. The occupants positioned themselves so as not to catch the odd stray ray of light, but it was impossible.
The meeting was scheduled to start at 11.00am, with attendees from all the major European operating companies of the time, UK, France, Germany, Belgium, the Netherlands. Talk turned to their new pay-master, WorldCom. Bernie Ebbers had acquired UUNET as part of the MFS transaction six months previously. How would the company change? Would this mean huge cost benefits for the UUNET business, given WorldCom's extensive international fiber network? Would we finally have the budget to do that TV advertising we'd always talked about? The WorldCom side of the company had been invited, but did not return phone calls or emails by the time of the meeting. They sent no delegate. Perhaps they were leaving us to sort this one out - in any case the future looked very exciting.
The meeting would decide the European VOIP strategy of the world's largest ISP.
Under considerable pressure from Cisco, engineers had rigged up a test network for their new VOIP technology. It was clumsy and expensive by present day standards, but the verdict from engineering was that basically it worked pretty well, and they felt confident in dealing with any latency and bandwidth demands. As the last participant arrived, sandwiches were brought in, and the meeting finally got underway. It was 11.45am. A mobile phone rang - it belonged to one of the two UK delegates.
The conversation went like this:
"Hello, [name], this is [name], I am the VP Europe for WorldCom"
"Yes, I know who you are, what can I do for you?"
"This VOIP meeting you are having today, I've just seen the Email"
"Yes, we're just about to get started actually. I'm sorry nobody from WorldCom made it, but we..."
"Look, voice customers are our customers, not yours, so any new product for them or talk of migration, it's going to come from the WorldCom side, got it?"
"Well, at the moment we're just testing the technology...we..."
"I (WorldCom) own the revenue line for voice, so I (WorldCom) own the customers, not you. You are Internet, we are voice, OK?"
"Sir..."
"There is to be no more work carried out on this VOIP stuff until we (WorldCom) decide, and we (WorldCom) will be managing it, OK?"
"OK, you've made that clear."
Conversation ends. The attendees have this relayed to them in silence, and there is much head shaking. I reflect for a moment... it seems this "being bought out for billions by a traditional telco" isn't going to be all good. With little else to discuss, the lunch is eaten at a relaxing pace, and the delegates shuffle off with plenty of time for shopping before catching their flights home.
WorldCom (now MCI) launched its VOIP product in Europe in Mid 2004, seven years after that phone call.
Posted by dymaxion at 01:16 AM | Comments (0)
www.start.com/pdc/
I am not sure I have seen anyone talk about this in the press yet? I had an e-mail this morning from a very observant Geek News Central reader does this not look like google.com/ig?
Playing with it for a bit and it is very obvious that this is something Microsoft is testing and will likely show up on MSN in the future. If you can't beat em join em isn't that what they say.
Posted by dymaxion at 01:02 AM | Comments (0)
Google Blog Search! "G Day"
The day that companies like technorati, pubsub and feedster feared more than anything is here lets call it "G Day". Personally I think those companies are now dead meat. I just created a huge number of search terms, and added them to my news aggreator, and I will know in several days how well it works. [google.com/blogsearch]
Posted by dymaxion at 12:54 AM | Comments (0)
Look out behind you! Google Personalized is Coming!
When we were kids, i remember playing a game we probably all played. Our version was called "99 in" - You had one person stand at a post (tree, lampost etc) and the rest had to hide. When he'd counted to 100, he could open his eyes and try to find you, your job was to stealthily make your way to the post without him seeing you. When you got there, without being caught, you shouted "99 IN!". If you look up into the top right corner of Google you'll see a "Personalized Homepage" link. I reckon GOOG are getting close to calling 99 in... :)
More from Jessica at GoogleBlog
Posted by dymaxion at 12:44 AM | Comments (0)
eBay and Skype: Back to basics
Two weeks ago, I explained how Google needed Skype to move Google up the value chain from when an advert is clicked. I noted that eBay was Google's real competition for connecting consumers to merchants, and eBay has a structured transaction environment. They don't just do the search, they also help complete the transaction, including payment.
So, a fortnight later, and eBay buys Skype. What does it mean?
Companies like Dell, eBay, Google, etc. got big by thinking big. They picked a unique business model, and drove it to completion without losing focus. To understand this transaction, you need to look for where the big prizes are.
The obvious one is the wrong one. Google and eBay are already in the business of generating sales leads. The Skype community, for all its size and vibrancy, is not being bought because they can be pitched to and turned into eBay users. Or if it is, this story will have a nasty ending where all the heroes get bumped off and the princess just grows old and ugly.
There are two conveniently located stones under which to look: transaction revenue, and the freefone number business.
Banking is big, slow, cartel-like and lacking in innovation. eBay is unbundling part of the transaction chain using Paypal, and re-intermediating the settlement process. Remember that Paypal is largely a virtual payment mechanism, used to front other payment services. Communications services are a natural generator of the small transactions that Paypal thrives on due to its low comission fee structure compared to credit cards. Skype and Paypal also have an international footprint, leaving many parochial banks struggling to offer a competing product. They fit together nicely.
This is classic Innovator's Dilemma stuff. Eat your way up into the big boys' businesses by starting with the small stuff.
So the first big prize is to suck some of the profit out of the banking payments system. This is a big pool, and Skype is just a small straw. That makes the eBay/Skype transaction interesting, but not critically important.
Guess what? Telecom is big, slow, cartel-like and lacking in innovation. And it has some big prizes ready for snatching. Almost all of current retail VoIP plays are abount disintermediating high end-user toll charges. It's a massive race to the bottom, where you get your monthly talk time by cropping three coupons off your Shreddies packet.
There are other puddles of money in telecom, though. One is the 800 number revenue bucket. I don't have the figures to hand, but this isn't a small deal. And because Skype is a child of the "stupid network", it can evolve quickly to integrate new transaction-supporting functionality making the profit pool bigger.
I suspect that eBay's ambition is to become the mediator of 800-number style interactions between consumers and merchants. The www.ebay.com web site is their text distribution channel, and Skype is the audio one. Each will have different sets of merchants, buyers and transaction structures. So don't look for "eBay" functionality to appear in Skype, because they're addressing strategically similar but functionally different needs.
One last thought. If you're a telco, now is a great time to cross your chest and start saying your Hail Marys. Someone with deep pockets is about to give away telephony to support their adjacent transaction business. Browsers are free — as long as enough people tip Bill G., search is free — as long as enough people leave a few cents in Larry, Sergey and Eric's pension plan. And telephony will be free — as long as you click the "pay here" button on your Skype-powered eBay telephony device often enough.
PS - eBay still hideously overpaid given the size of the effort needed to claim the prizes.
Posted by Martin at 10:25 PM
---
Comments:
(
post your comment
)
Paul Jardine
@ September 13, 2005 12:07 AM:
I think Ebay want more than just the 800 number revenue! (attractive though it is)
I think their play is based on a phenomenon that they see happening on their auction pages already.
Real companies selling real products use Ebay exclusively as their storefront. If Ebay can provide enough of the prerequisites for successful company operation, e.g. 800 numbers, then the have the potential to be THE place to start your online company (some would say it already is)
Given that this is global and the throughput could be mind-bendlingly large, any kind of morsel of revenue per transaction is huge.
I'm not sure they (Ebay) can pull it off while the market provides competition (e.g. Google?), but Skype gets them to market quickly with the basics. I would expect partnerships or acquisitions in financial software and logistics etc.
The fee structure at Ebay is quite severe, however, so I wonder how the free model Skype proposes will go down?
Jorge Ortiz
@ September 14, 2005 04:48 AM:
I agree with your view of eBay as a transaction business and the efficiency of PayPal vs other payment systems when dealing with micropayments.
Skype can be the entry point for micropayments, an area where there is a very long tail of possible applications waiting to be exploited.
Much as Google grew by getting revenue out of people who would otherwise not advertise, micropayments is an area where there is a huge revenue stream waiting to be had but lacking an efficient payment system. Skype/Paypal may be the entry ticket to get people used to micropayments, after all the phone bill is the most widely spread micropayment system that we all use, but we are rarely aware that it is a micropayment system
Posted by dymaxion at 12:33 AM | Comments (0)
Acoustic snooping
University of California, Berkeley researchers claim that sounds from typing on computer keyboards are distinctive enough to be decoded, allowing security breaches caused by "acoustic snooping."
The scientists fed sound recordings of typing on keyboards into a computer and use an algorithm to recover up to 96% of the keyboard characters.
The research builds on earlier work by IBM researchers who were able to recover 80 percent of text from keyboard recordings. But the Berkeley algorithm adapts to typing patterns of multiple typists and overcomes background noise such as music or ringing cell-phones.
Computer security expert Peter Tippett said that the prospect of such spying should not concern businesses fretting over possible snooping by rivals. "There are all kinds of attacks like these but they are only relevant to top secret organizations."
Via CIOL. Press release.
Posted by dymaxion at 12:08 AM | Comments (0)
September 15, 2005
Google Blog Search: Google's New Blog Seach Tool
http://blogsearch.google.com/ has just launched. No tags required. :)
Posted by dymaxion at 11:32 PM | Comments (0)
Odeo Studio Alpha (verdict: it rocks)
Filed under: Podcasting, Site news
Odeo
is now publically testing its soon-to-be-beta Odeo Studio, and we are instantly in love with it. Using a completely browser based app (Flash), you can setup multiple channels and record your podcast on a whim. Seriously, we can't say enough how cool this thing is. Just a few clicks and you're recording your podcast using pretty much whatever input device you have working on your machine. Better yet, there's no uploading, no setting up of RSS feeds, no annoying steps to getting it live - just click, record, and you're good to go.
How good is it? So good that we here at Droxy are confident enough to use it for our debut podcast (albeit, a short one).
Check out the recording here.
Seriously folks, this thing rocks. If this is pre-beta, then we can't wait for the official release.
Posted by dymaxion at 11:28 PM | Comments (0)
Find Web services and Open APIs with wsfinder
Want to pull Flickr photos into your blog? What about adding a weather module or an automatically updated playlist? Wsfinder can point you in the right direction for these things and more.
Wsfinder is a neat community wiki for Web publishers and developers. It consists of a directory and photos listing in wsfinder get the link to Flickr's API as well as some nice examples of the API in action.
Posted by dymaxion at 10:59 PM | Comments (0)
September 12, 2005
Nuke first, ask questions later
Pentagon Revises Nuclear Strike Plan
-
The Pentagon has drafted a revised doctrine for the use of nuclear weapons that envisions commanders requesting presidential approval to use them to preempt an attack by a nation or a terrorist group using weapons of mass destruction. The draft also includes the option of using nuclear arms to destroy known enemy stockpiles of nuclear, biological or chemical weapons. [...] The first example for potential nuclear weapon use listed in the draft is against an enemy that is using "or intending to use WMD" against U.S. or allied, multinational military forces or civilian populations.
Hmm, if we nuke them, then I guess we destroy the evidence that they were planning to use WMD against us....
Posted by dymaxion at 11:46 PM | Comments (0)
EBay-Skype: PowerPoint Pitch
: EBay's explanation/sales pitch to investors includes
a 78-page PowerPoint presentation
. (via BW's
Rob Hof
, who did a great job overnight with this story.)
-- Slide #6: Skype will accelerate commerce on eBay; Skype opens up new lines of business, new monetization models, new geographies; A great standalone communications business; eBay + PayPal + Skype = Unparalleled e-commerce and communications engine.
-- Slide #14: Skype has moved from 19.8 million registered users at the end of 2004 to 44.1 million at the end of 2Q05 and a projected 57 million in 3Q05. (The press release already claims 54 million.)
-- Slide #22: Skypes adds pay-per-call to eBay's transaction-based revenue. In eBay-speak, this removes a "key friction."
-- Slide #44: This may be a personal favorite;
one selling point is that the founders also founded Kazaa
.
-- Slide #48: eBay, commerce; PayPal, payments; Skype, communication; Google, search; Yahoo, content.
-- Slide #77: "The power of 3." Wonder if Aaron Spelling is going to charge royalties for eBay's use of the slogan from his "Charmed" series about three witches who are more powerful together than apart.
Here's the full eBay Skype
press/investor package
.
Posted by dymaxion at 11:19 PM | Comments (0)
Chastened? To the collective group of telcos who ...
Chastened?
To the collective group of telcos who consistently adopted an adversarial stance towards Skype, or dismissed it as heretical or ridiculous, I think you have really and truly blown it by not taking out Skype yourselves at some earlier stage in its development. We can debate the valuation eBay has tabled (it does look steep at $2000 per paying sub, assuming the full earn-out is paid), but the fact remains that Skype offered the ultimate opportunity in virtual footprint/brand expansion, and it's interesting that among all the mooted bidders for Skype (some of them apparently highly unlikely on first glance, like eBay itself), there was not one single incumbent telco ever mentioned. As my friend and sometimes partner in crime,
Martin
, once said, "Company X hasn't realized that it has two choices - dominate or die."
The EuroTelcos in particular seem to prefer buying network assets in adjacent markets, or taking out pesky players in core mobile markets, rather than waking up to the real long-term direction of voice communication - which is in presence, identity/relationships, and integration with other applications/activities. As a friend recently said of Google Talk, "These people are restoring innovation to communication in a way that the telcos never could/would, and also in a way which never occurred to the 'traditional' VoIP players." In my view, Skype accelerated this process by creating a sense of urgency, even crisis. No doubt the telcos will probably laugh at eBay, but I can't help but feel that this situation is a shameful reflection of the shortsightedness of telcoland. And to anyone who thinks that this somehow offers a respite from the Skype threat as the business is realigned to feed eBay, I would counter that in today's conference call there seemed to be a clear commitment on the part of eBay to Skype's existing standalone business - but this time backed by eBay's marketing muscle and budget. Anyway, it's over and done, unless of course eBay places Skype for auction on its own site.
Posted by dymaxion at 11:12 PM | Comments (0)
Interesting Times...
Rumors on Google, EBay. I don't buy the first one, I can see the second. I mean, what on earth would the Google culture DO with Reuters? Really, I've dealt with both companies extensively, I can't imagine a worse relationship. On the other hand, they might just buy em and run them like an absentee landlord. Odder things have happened...at Google anyway.
Now eBay buying Skype? You kidding me? Of course that makes sense. Who is the largest paid search advertiser in the world? eBay. (Or at least in the top three). Why? They are a *mature business* which has reached the stage of *paying well for acquiring customers.* Skype has tens of millions of potential customers, AND a way for folks who are buying and selling to talk to each other for free. But the first point is more important than the second, trust me. Think AOL and ICQ. No brainer.
SEW says it's Google's 7th birthday, but I've heard the date is in fact "sometime in the late summer/early fall," so expect an official celebration as soon as Google can get their doodle designer to get it into gear....(my book does peg the date, but you'll have to buy it to find out...)
SEW also notes that Google's index seems to be swelling. Did someone predict this (read second to last paragraph)?! One reader here at Searchblog has also noticed this...see the comments on the left...
WSJ (free link) does blog search engines....
Google Maps + Katrina info via Slashdot...
Recovery2.0 meet to happen thanks to Jarvis and others, look for meeting at Web 2.0....all welcome who want to contribute, no pass needed - just work with Jeff and let us know.
Posted by dymaxion at 11:08 PM | Comments (0)
It's Official: eBay Has Too Much Money (Some Of Which Is Now Skype's)
This evening the rumors increased, and as of a few minutes ago, it's now official that
eBay is vastly overpaying for Skype
. It's a great deal for Skype, and a ridiculous one for eBay. They're paying $1.3 billion in cash, $1.3 billion in stock and apparently there's another $1.5 billion on the line in incentive payouts based on various performance metrics over the next three years. I understand that Skype has a great product (I use it all the time) and I understand that they've built up a nice community. However, the community wasn't
that
large and very few of the users were paying (and even those who were paying weren't paying very much). In the meantime, Yahoo, Google and Microsoft are all getting into the same market with much bigger war chests and much bigger user-bases. Are there ways that eBay can integrate Skype into their current offering? Yes, somewhat. However, the buzz going around that this will let buyers and sellers talk to each other is ridiculous. I've bought and sold plenty of stuff on eBay, and not once have I ever wanted to speak to the person I was dealing with. The talk about synergies with Paypal seem even more tenuous. There seems to be very little in the way of real synergies between the two companies at all. About the only thing this suggests is that eBay is worried that it's existing business is in trouble and it needs help fast -- and apparently the best way to do that is to significantly overpay for a VoIP offering with too much hype.
Posted by dymaxion at 11:01 PM | Comments (0)
Criminals Learn Forensic Science
Criminals are adapting to advances in forensic science:
There is an increasing trend for criminals to use plastic gloves during break-ins and condoms during rapes to avoid leaving their DNA at the scene. Dostie describes a murder case in which the assailant tried to wash away his DNA using shampoo. Police in Manchester in the UK say that car thieves there have started to dump cigarette butts from bins in stolen cars before they abandon them. "Suddenly the police have 20 potential people in the car," says Rutty.
The article also talks about forensic-science television shows changing the expectations of jurors.
"Jurors who watch CSI believe that those scenarios, where forensic scientists are always right, are what really happens," says Peter Bull, a forensic sedimentologist at the University of Oxford. It means that in court, juries are not impressed with evidence presented in cautious scientific terms.

Detective sergeant Paul Dostie, of Mammoth Lakes Police Department, California, found the same thing when he conducted a straw poll of forensic investigators and prosecutors. "They all agree that jurors expect more because of CSI shows," he says. And the "CSI effect" goes beyond juries, says Jim Fraser, director of the Centre for Forensic Science at the University of Strathclyde, UK. "Oversimplification of interpretations on CSI has led to false expectations, especially about the speed of delivery of forensic evidence," he says.
Posted by dymaxion at 10:52 PM | Comments (0)
China Blocking Skype & VoIP
Looks like China may be blocking SkyepOUT and other VoIP services acording to Guy Kewney at Newswireless today.
Reports from the FT suggest that this "won't affect" PC to PC calls using Skype. According to Shanghai Daily, however, China Telecom is collecting the identities of those who attempt to use SkypeOut to call regular phone numbers from their PCs.

"Under the current relevant laws and regulations of China, PC-to-phone services are strictly regulated and only China Telecom and (the nation's other fixed-line carrier) China Netcom are permitted to carry out some trials on a very limited basis," said a China Telecom official, quoted by Reuters.
Posted by dymaxion at 10:35 PM | Comments (0)
Vonage IPO Questioned
With Skype hogging the limelight, it is easy to forget about Vonage and its pending IPO plans. Vonage, which just hit the million-customer mark, is planning to raise $600 million in an eagerly awaited initial public offering. BusinessWeek, has a very sober assessment of Vonage's offering, and company's longterm prospects.
Vonage "can go public in almost any type of equity market," says Tim Walsh of investment bank Lane Berry, who adds such an IPO "ought to be well received."…. Time for an IPO may be of the essence. If Vonage waits to go public and its market position erodes further, the share sale may not catch on. There are industry rumblings that Vonage execs were unsuccessful in a bid to sell the company — the preferred exit strategy for its backers. "Vonage is very vulnerable," says Tom Taulli, an analyst with investment bank Instream Partners.
The article notes that during 2004, Vonage's share of the VoIP market slid from 61% to less than 30% of subscribers, despite a sharp increase in the overall number of consumer VoIP users. The good news for Vonage is that some of its lesser rivals - Broadvoice and Sunrocket for instance - are either imploding or facing consumer ire because of poor service. Vonage has issues of its own. But none bigger than the ever increasing threat of cable providers, and the Bells, along with other pesky upstarts, and an increasingly unfriendly FCC makes sure that future is not all that bright for Vonage.
Vonage sponsors MTV's popular reality show The Real World. But as is the case on the MTV show, things can get ugly fast in a crowded house. The same can be said of a crowded market.
Posted by dymaxion at 10:16 PM | Comments (0)
Packet 8 reveals customer emails…oops
Packet 8, in what seems to be a major snafu revealed email addresses of nearly 21,000 customers. An employee attached a spreadsheet containing customer email addresses along with its monthly email newsletter. Packet 8's director of corporate communications Joan Citelli said, "It was a one time fluke. I don't expect it to happen again." Right… okay! But these are the kind of snafus which make customers fleeing. I wonder what customers think about this - if I was one, I won't be too happy with everyone with my information.
Posted by dymaxion at 10:15 PM | Comments (0)
End of an Era? eBay to purchase Skype
So it turns out that the rumors late last week were true. eBay is going to purchase Skype.
But one thing the folks at eBay forgot about, is that while money can buy many things, as the Beatles once said, "Money can't buy you love."
And it was a love and passion by the community of Skype users that directly helped drive Skype's worldwide recognition and success during the past two years. (Having great technology helped a lot too!)
Now that Skype has "gone commercial" I wonder how much of today's Skype community will be there in three months, six months and a year from now.
The punch line here is that it may no longer matter.
Just in a flash, Skype has become the "engine" for eBay customers to communicate with each other. An interesting business model. I'll leave it at that.
What I find to be more interesting is that the basic element of Skype "needing" to be disruptive to the world's communication service providers seemed to have been lifted.
There is a part of me that wonders if the World's telcos got together and gave eBay the money to purchase Skype so that wouldn't have to worry about being disrupted. As a friend says, "there is more truth said in jest than in fiction."
So what exactly is eBay purchasing other than some pretty cool P2P technology, a great brand and access to two of the best minds to hit the internet and market disruptive innovations who have a track record of taking a vision and turning it into a reality?
I'm afraid only the shareholders of eBay will find out.
Until recently, I never looked at Skype as an "ecommerce play." I'm not sure who did. One question that comes to mind is why eBay didn't decide on launching their own SIP service and build their own softclient to optimize the eBay/Paypal end user experience?
Oh well, looks like the market for enabling end-to-end IP Communications (between end-users not looking to do ecommerce) is going to be wide open again.
Another turn of the screw in the history of IP Communications.
Now I have a reason once again to get re-engaged with Free World Dialup.
The timing could not have been better.
Thank you eBay and Skype!
Posted by dymaxion at 10:10 PM | Comments (0)
Microsoft and Rogue Dialers
A week late with this, but still shocking enough for a mention: Microsoft's UK security chief has admitted to be being hit by a rogue dialler, according to ZDNet UK News:
Rogue diallers have claimed a high-profile victim — Microsoft UK's chief security advisor Ed Gibson. Speaking to ZDNet UK on Tuesday, Gibson revealed that he has recently been hit by a £450 bill from BT after his computer was infected with a rogue dialler.

… Gibson was speaking at the London "eConfidence — Spam and Scams" conference, at which he delivered a passionate attack on rogue diallers. "I'm so perturbed about the whole area of rogue diallers… If we don't make a concerted effort to make the Internet more secure, it will be a very different place in the future," Gibson told the conference.
My sympathies with Mr. Gibson, who ZDNet says "was appointed as Microsoft's chief security advisor in the UK in May this year and took up his post in July. He has previously worked for the FBI as an assistant legal attaché for the UK. " But I'm still kinda gob-smacked that someone of his ilk and presumed savvy would fall for this hoary trick. Does Microsoft not read Loose Wire? (I'm kidding.)
Anyway, the sting in the tale is that BT is insisting he pay the 450 quid he rang up. Seems fair; a few months back I would have said not, but BT has, as ZDNet points out, launched a service to protect users from this kind of thing, so there's really no excuse.
I suppose my worry is that Mr. Gibson is a little behind the curve here, and using a forum to fulminate against a problem which, in the scheme of things, is slightly less important than data theft, phishing and other Internet terrors. If one wanted to, I suppose one could argue this is symptomatic of Microsoft's lethargic, unimaginative and all-or-nothing approach to security. Or is it just one guy's bad luck?
Posted by dymaxion at 09:53 PM | Comments (0)
Who's Scared of Naked Broadband
Naked Broadband, lurid imagery notwithstanding, is a clear-and-present danger to incumbent telephone companies, according to S&P. It is more troubling that consumer preference for wireless over fixed voice. And even more troubling than the growing popularity of VoIP services like Skype. The article says that the loss in wireline voice revenues has been made-up with wireline broadband revenues. As naked broadband, (that is just broadband, and not rest of the crud) becomes more popular, the incumbent's monthly revenue stream will decline by about 40 percent. Here is how the math works out - In UK, for example, consumers pay sixteen euros a month to get a 23-euro-a-month DSL connection. Take away the sixteen euros, British Telecom is left with about 59% of possible total monthly revenues. This explains why all the Bells (with the exception of Qwest) are dragging their feet on the issue of "naked broadband." SBC promised to start "naked DSL" trials this summer, but no update since then. And the way things are going, Tampa Bay Devil Rays will win a world series before naked broadband is available stateside.
Posted by dymaxion at 09:42 PM | Comments (0)
A moral virus?
Forwarded from a friend:
A new Trojan horse program circulating around the Internet this week
appears to be on a moral mission to stamp out adult Web sites, according
to security research firm Sophos (Profile, Products, Articles) PLC.

Instead of snooping for sensitive financial information or secretly taking
control of an infected computer, the Trojan, called Yusufali-A, monitors
Web surfing habits. When it spots an objectionable term such as "sex" or
"exhibition," in the browser's title bar, it hides the Web site and
instead pops up a message taken from the Koran, said Gregg Mastoras, a
senior security analyst with Sophos.

"Allah knows how ye move about and how ye dwell in your homes," reads part
of the message, Mastoras said.

If the user does not quit the offending Web site, the Trojan will
eventually displays a message reading "Oh! NO i'm in the Cage" and force
the computer to log-out.
Thanks, Saad!
Technorati Tags: culture, internet, religion
Posted by dymaxion at 09:33 PM | Comments (0)
Library of Congress in a sugar cube: A scenario
This morning my new colleague David Pescovitz and I were IMing about nanotech, and somehow got onto the "Library of Congress in a sugar cube" meme. What evolved was a series of newspaper headlines detailing how the scenario evolves. Some are his, some are mine.*
The Clinton administration wants to nearly double spending for research on technology that potentially could store the contents of the Library of Congress in a device the size of a sugar cube and revolutionize medicine. (U.S. Government, January 21 2000)

Increased investments in nanotechnology could lead to breakthroughs such as molecular computers that can store the contents of the Library of Congress in a device the size of a sugar cube. (Foresight Institute)

Win the Library of Congress in a sugarcube! Free contest entry with every Soy Frappucino (Starbucks advertisement, July 14 2009)

"New Dark Ages Begin: Starbucks Patron Accidentally Drinks Library of Congress" (New York Times, front page, August 1 2009)

'"They should never have left it near the Splenda,' Says Culprit" (Los Angeles Times, B1, August 2 2009))

"Library of Congress Drinker Disappears: Rumors of Google Involvement" (New York Times, A6, August 19 2009)

"Microsoft Cafeteria Switches to NutraSweet" (Seattle Times, August 21 2009)

"Splenda Hires Saatchi/Saatchi to Develop New 'Brain Food' Advertising Campaign" (Ad Age, August 28 2009)

"Library of Congress Drinker Named 'Head of Special Projects' at Google" (San Jose Mercury News, August 30 2009)

"Family Research Council and NutraSweet Warn of Dangers of 'Socialist, Radical Feminist Literature' in Splenda" (Chicago Tribune, September 2 2009)

"Starbucks Cancels 'Find the Mona Lisa in a Blueberry Muffin!' Contest" (Marketing Today, September 6 2009)

"Chinese Government Censors to Monitor Sugar for Content 'Disruptive to Social Order'" (Singapore Straits Times, September 14 2009)

"Amnesty International Calls for Investigation into 'Special Projects' at Google" (San Jose Mercury News, September 19 2009)
Readers are invited to extend the story by adding more headlines as comments.
* Of course, this is not to speak ill of any of the companies mentioned, or to imply that the New York Times or Merc would ever write such clunky headlines. And the Institute loves Google, Microsoft, Splenda, NutraSweet, and Starbucks. And the Library of Congress.
Technorati Tags: cafe, future, IFTF
Posted by dymaxion at 09:30 PM | Comments (0)
eBay Buying Skype: The Privacy Question Grows
CNet: eBay to buy Skype for $2.6 billion in cash, stock. eBay has agreed to buy the fast-growing Internet start-up Skype in a move to add free Web telephone calls to its online auctions and fuel growth, the companies confirmed Monday.
It's official, and eBay will now be adding something to its portfolio: customers' presence online. The possibilities are endless. I didn't get this at first, but now I do.
But another element of this deal strikes me as disturbing -- its impact on customers' privacy. Here's why:
Posted by dymaxion at 09:23 PM | Comments (0)
September 08, 2005
When MSM Won't Comply, Control Them (or Beat Them Up) (Alan Wexelblat)
Taking a lesson from the Pentagon's success in controlling negative imagery coming out of Iraq, FEMA has now clamped down on the recalcitrant mainstream media. First they're denying the press permission to photograph anything related to the recovery of the bodies; now it looks like press are being systematically denied access to key points in the city.
Excuse me, but isn't public photography of public officials carrying out official duties in plain view still legal? Ah, but perhaps not in the post-9/11 US. I think FEMA should take a page from Google's book and just refuse to talk to Geraldo for a year.
Note, the original source for this, Josh Marshall's Talking Points Memo, is pretty overtly partisan and opinionated. Whether that makes him more or less reliable is left as an exercise for the reader.
Update: The NPAA (National Press Photographers Association) has reliable documented reports of their members being confronted at gunpoint and slammed against walls by armed authorities. These, apparently, are not isolated incidents from overtired cops. According to the NPAA, "some television networks have hired armed private security firms to protect their journalists".
Posted by dymaxion at 10:41 PM | Comments (0)
We all wish we could, I suppose.
On live TV, irate Miss. man tells Cheney to "self-copulate"
Thus turns the karmic wheel ? Recall: over a year ago VP Cheney said
' "I expressed myself rather forcefully, felt better after I had done it,"
after he told Vermont Senator Patrick Leahey -
on the floor of the US Senate
- to "Go f_ck" himself. Today, during Cheney's tour of storm damaged Miss., a resident approached Cheney's press meeting and shouted:
"Go f_ck yourself, Mr. Cheney!!  Go f_ck yourself!!!"
. The exhortation was aired on at least one national cable channel. Here is the
video
(
ALT
).
The LA Times
,
CNN
, and
FOX
are carrying the story.
Posted by dymaxion at 10:05 PM | Comments (0)
Ruling In Google-Microsoft Dispute Over Lee Comes Next Tuesday
Judge to rule Tuesday in Kai-Fu Lee case from News.com says that a ruling on whether Kai-Fu Lee can leave Microsoft and become head of Google China will come next Tuesday. As issue is whether a preliminary injunction will be lifted ahead of a trial to permanently settle the matter in January....
Posted by dymaxion at 09:42 PM | Comments (0)
Yahoo and the Imprisoned Journalist
By now you may have heard that Yahoo helped Chinese authorities track down a Chinese journalist (via his Chinese Yahoo email) who was subsequently jailed for "leaking state secrets" or somesuch brilliant bullshit. Here's the SJMN coverage (reg) and Search Engine Journal's coverage.
From the Merc:


Yahoo has provoked the ire of a media watchdog group for allegedly giving information to the Chinese government that led to the jailing of a Chinese journalist for leaking state secrets.
roversy adds Yahoo to a growing list of U.S. companies that have faced scrutiny for their business dealings in China, a country that is coveted by businesses for its booming economy and reviled by activists for its censorship and human rights abuses....
....China's ``Public Pledge on Self-discipline for the Chinese Internet Industry,'' (is) a document signed by Yahoo and some other U.S. companies. The pledge commits signatories to make ``energetic efforts to carry forward the rich cultural tradition of the Chinese nation and the ethical norms of the socialist cultural civilization'' by observing all state industry regulations, according to the group Human Rights Watch. In particular, the document asks signatories to refrain ``from producing, posting, or disseminating pernicious information that may jeopardize state security and disrupt social stability.''
I've written about how Google struggled with this issue, and has gotten a fair amount of grief for it, but Yahoo and others have the same struggle. I pinged my contacts at Yahoo and all they could say was this:
"Just like any other global company, Yahoo! must ensure that its local country sites must operate within the laws, regulations and customs of the country in which they are based."
How I wish these companies had the backbone to at least say what happened was wrong, that the Chinese system is wrong, that they regret they are in this position. Take a stand - say what I know you must feel! One can have an opinion, and still "operate within the laws, regulations and customs of the country in which they are based." Or is it also the law in China that US corporations can't have an opinion?
Posted by dymaxion at 09:33 PM | Comments (0)
Monthly Temperature Taking: Keyword Prices Fall
Fathom reports that prices were down an average of 9 percent last month. Why? Stating the obvious - er, summer - may be too, well, obvious. But I'd wager that's what's up.
Posted by dymaxion at 09:31 PM | Comments (0)
Want Katrina Aid? Use Windows.
As if the Katrina victims didn't have enough on their plates, FEMA's assistance site requires Internet Explorer 6. Sheesh.
The good news: If you've survived Hurricane Katrina, the government will let you register for help online. The bad news: But only if the computer you're using is running Windows.
Yes, it turns out that to make a claim with the Federal Emergency Management Agency's Individual Assistance Center, your Web browser must be Microsoft's Internet Explorer 6 or higher and you must have JavaScript enabled. It even says so right on the page itself. One problem: IE6 isn't available for Macintosh or Linux computers.
Posted by dymaxion at 08:42 PM | Comments (0)
US, still the bandwidth daddy
US consumers maynot have ample bandwidth, but from the looks of it, when it comes to sheer capacity, US is still the bandwidth big-daddy. This data collected by Telegeography says it all. Of course, it doesn't mean anything to consumers who are thirsty for bandwidth! That's the irony, isn't it!
Top Internet Hub City: London, 1.1 Tbps bandwidth, 439 Gbps peak traffic.
Top Internet Hub Country: United States, 1.4 Tbps bandwidth, 704 Gbps peak traffic.
Top Internet Route: London - New York, 320 Gbps bandwidth, 153 Gbps peak traffic.
Top Region for Traffic Growth: Latin America, 70% average growth.
Top ISP by Autonomous System Connectivity: MCI, 3,102 connections.
Top ISP by Number of Countries Connected: AT&T, 52 countries.
Cheapest Place to Buy GigE Backbone Access: United States, $13 per Mbps per month
Highest International Bandwidth per Capita: Denmark, 38 Kbps per person.

Posted by dymaxion at 08:32 PM | Comments (0)
Indian Offshoring Is Not Just Bangalore Alone
MGI cautions that India's vast depth of resources is smaller than it seems once their suitability for is considered and finds that in key offshore locations, constraints on the supply of talent already exist. Other low cost countries, are gearing up ( I am not sure how much would these would add up to? - each one of them comes with their plus and minus and largely less attractive in aggregates - supplementary/complimentary roles - yes, replacement on same/better terms - NO) to challenge India's lead. Lets look at some of the key issues discussed article and some views on those. Sometimes I am amazed at the disconnect between reality and myth (like there are only 6 best engineering institutes in India!,Making Banglaore synonymous with Indian IT etc.)I do not subscribe to the pessimism/undue caution brought forth and it is not the end of the game as it looks:
- Depth Of Experience: In 15 years of offshoring, the country has been aggressively expanding its higher-value services—proof points exist in business application innovations,product development, and BPO and has developed a stable of world-class IT services vendors that can save foreign companies the trouble of setting up their own offshore centers. A large supply of qualified talent exist in areas outside IT, such as R&D, finance and accounting, call centers, and back-office administration and the future trend seems to be that Across every industry spectrum, there is potential for knowledge work to relocate to India.
- Size Of The Pool :India's pool of young university graduates is the largest of all 28 countries MGI has studied and is 1.5 times the size of China's and almost twice that of the United States. This huge number of young graduates is topped up by 2.5 million new ones every year.
- Quality Of Expertise : Global resource managers with experience in India praise the cultural fit and work ethic of Indian employees but would still, on average, consider employing only 10 to 25 percent of the country's graduates—a higher proportion of suitable graduates than China produces but only half that of Central Europe. The quality standards may vary across different institutions. (My Take – Talent quality is a myth –Look at the successful companies running offshore business and look at the proportion of executives from so called high quality institutions – answer lay there)
- The Talent Mix: Proportion of engineering degree holders may be less compared to the levels of China & Germany. India could face an overall shortage of engineers in the next few years. Significant shortfalls of talent are also expected in the field of business process offshoring, driven by the likelihood that demand and job growth will increase much faster in this industry than they will in IT services over the next three to five years.(Initiatives like this would provide the solution.)
- Flexibility: Indian graduates are highly mobile compared with those from other emerging markets. Concerns exist on middle management scarcity.( Look at numbers getting certified in specialised courses like PMP – answer lays there).
- Expertise Building Frameworks: Private providers, such as the university-affiliated software-engineering schools of Oracle and Satyam, have driven an explosion in the number of graduates in IT-related disciplines; both private providers and government-funded institutions have contributed to the increasing number of potential candidates for business process jobs. More of such things may be needed.
- Locations: To some extent, offshoring companies have created difficulties for themselves by crowding into the same places. Although clustering creates advantages at first, they soon dissipate if demand for talent overwhelms the supply and if infrastructure investments don't keep pace. (DO NOT EQUATE OFFSHORING WITH JUST BANGALORE – THAT'S A MYTH/HYPE – Agreed that Bangalore has a pioneer status – but it is Chennai, Hyderabad and to a small extent Pune & Calcutta that are showing lot more activity today and it would be Coimbatore, Mangalore and Indore that would be the centers)
- Cost : MGI research shows that India has the lowest labor cost for university-educated employees of the 16 potential offshore countries studied (roughly 12 percent of the US cost, on an hourly basis). India's graduates also work the longest hours—on average, 2,350 a year, as compared with 1,900 in the United States and 1,700 in Germany. Projections show that average wages for young professionals in service jobs in India probably won't exceed 30 percent of US levels, due to competitive pressures:
- Things To Do:
- A. To stay at the cutting edge of offshoring, India must invest a lot more in its infrastructure - and a lot faster.
- B. For back-office activities such as finance, HR, analytic and modeling services, and call centers, projections indicate that India will have enough suitable labor to meet projected demand over the next five years, but these need to be made stronger in numbers and a good PR machine should work on this becoming clear to a lot more.
-C. Making India shine – has the key themes listed out – simple, direct but impactful.
-D. Recognise the changing nature of offshoring and gear up for that - as in other streams where countries move into value added segments with maturity. India is uniquely positioned for that and such endeavours open lot more avenues for growth and opens up innumerable opportunities.
- E. Create a Book Of Myths of Indian offshoring that analysts always write about and make them realise that reality is different from pulpwork.
Category
:
Offshoring
,
India
Posted by dymaxion at 08:24 PM | Comments (0)
Vint Cerf Joins Google
By tim The subject line says it all
Vint Cerf joins Google
. Google continues to hire many of the best and brightest of the Internet generation, including now one of its creators, in its desire to realize the internet's potential to become the portal to all the world's information. It will be interesting to see how Vint, known for his impeccable 3-piece suits and his courtly, almost old-world demeanor as well as for his technical credentials. will integrate with the hacker culture of Google. On the surface, they might seem like an odd-couple, but I see in both deep thinking and passion about the ability of the internet to create a better future. I think it's a marriage made in heaven.
Posted by dymaxion at 08:20 PM | Comments (0)
Spray-on Skin Cells
The first controlled clinical study to examine the effectiveness of sprayed cultured skin cells to close the wounds of burns victims is being undertaken at the Queen Victoria Hospital NHS Foundation Trust (QVH), East Grinstead. "We have seen what I can only describe as miraculous results using spray on skin with patients surviving 90% burns who otherwise had very little chance of survival." [press release]
Posted by dymaxion at 08:12 PM | Comments (0)
September 07, 2005
Gladwell -- US health insurance is deadly
Cory Doctorow
: Malcolm "Tipping Point" Gladwell's article on the failure of healthcare in Amercia in this week's New Yorker magazine is a chilling, articulate indictment:
The leading cause of personal bankruptcy in the United States is unpaid medical bills. Half of the uninsured owe money to hospitals, and a third are being pursued by collection agencies. Children without health insurance are less likely to receive medical attention for serious injuries, for recurrent ear infections, or for asthma. Lung-cancer patients without insurance are less likely to receive surgery, chemotherapy, or radiation treatment. Heart-attack victims without health insurance are less likely to receive angioplasty. People with pneumonia who don't have health insurance are less likely to receive X rays or consultations. The death rate in any given year for someone without health insurance is twenty-five per cent higher than for someone with insur-ance. Because the uninsured are sicker than the rest of us, they can't get better jobs, and because they can't get better jobs they can't afford health insurance, and because they can't afford health insurance they get even sicker. John, the manager of a bar in Idaho, tells Sered and Fernandopulle that as a result of various workplace injuries over the years he takes eight ibuprofen, waits two hours, then takes eight more--and tries to cadge as much prescription pain medication as he can from friends. "There are times when I should've gone to the doctor, but I couldn't afford to go because I don't have insurance," he says. "Like when my back messed up, I should've gone. If I had insurance, I would've went, because I know I could get treatment, but when you can't afford it you don't go. Because the harder the hole you get into in terms of bills, then you'll never get out. So you just say, 'I can deal with the pain.' "
Link
(
via Kottke
)
Posted by dymaxion at 01:49 AM | Comments (0)
Micropayments Gain Further Support: PayPal Joins The Frey
PayPal is extending its micro-payments service to support online commerce of low-cost digital content. The digital content to be covered by the new PayPal offering will include news articles, video games, online greeting cards, mobile phone content, and music. For this type of micropayments (less than $2), PayPal charges 5 percent plus $0.05 per transaction. Otherwise PayPal's transaction fee is typically volume-based, and ranges from 1.9 to 2.9 percent in addition to a charge of $0.30 per transaction. For independent publishers, musicians,and other content producers wishing to efficiently sell their goods online, PayPal it's cheaper than working with credit cards and gives consumers a more convenient purchasing option than, say, signing up for subscriptions....
Posted by dymaxion at 01:44 AM | Comments (0)
Virus Author Motives Changing
Tragamor writes "BBC News is reporting that, with the suspected authors behind the zotob virus recently arrested, they are giving insights into the motivation of modern hackers. With the availability of virus sourcecode, authors are spreading to countries which had previously no history of virus origins." From the article: "What the pair were probably taken aback by was the response that the worm generated. Few virus writers now want to hit the front pages, said Mr Hypponen, most prefer to have their creations sneak under the radar, rack up a few thousand unwitting victims who are then milked for money or saleable data. It appears that Mr Essebar was intending to make money several different ways from the people caught out by the Mytob and Zotob viruses he is alleged to have created. "
Posted by dymaxion at 01:38 AM | Comments (0)
Ballmer Throws A Chair At "F*ing Google"
A reliable source has passed along a legal document in the ongoing lawsuit between Google and Microsoft over Google's hiring of Kai-Fu Lee. The document is the "Declaration of Mark Lucovsky" in the case. Lucovsky was a distinguished engineer at Microsoft who defected to Google in November of 2004. His statement makes for some pretty interesting reading, to say the least.
The statement reads in part:
Prior to joining Google, I set up a meeting on or about November 11, 2004 with Microsoft's CEO Steve Ballmer to discuss my planned departure....At some point in the conversation Mr. Ballmer said: "Just tell me it's not Google." I told him it was Google.

At that point, Mr. Ballmer picked up a chair and threw it across the room hitting a table in his office. Mr. Ballmer then said: "Fucking Eric Schmidt is a fucking pussy. I'm going to fucking bury that guy, I have done it before, and I will do it again. I'm going to fucking kill Google." ....
er, Mr. Ballmer resumed trying to persuade me to stay....Among other things, Mr. Ballmer told me that "Google's not a real company. It's a house of cards."

UPDATE: This has hit the wires.
Posted by dymaxion at 01:00 AM | Comments (0)
Security Lessons of the Response to Hurricane Katrina
There are many, large and small, but I want to mention two that I haven't seen discussed elsewhere.
1. The aftermath of this tragedy reflects on how poorly we've been spending our homeland security dollars. Again and again, I've said that we need to invest in 1) intelligence gathering, and 2) emergency response. These two things will help us regardless of what the terrorists are plotting, and the second helps in the event of a natural disaster. (In general, the only difference between a manmade disaster and a natural one is the cause. After a disaster occurs, it doesn't matter.) The response by DHS and FEMA was abysmal, and demonstrated how little we've been getting for all our security spending. It's unconscionable that we're wasting our money on national ID cards, airline passenger profiling, and foreign invasions rather than emergency response at home: communications, training, transportation, coordination.
2. Redundancy, and to a lesser extent, inefficiency, are good for security. Efficiency is brittle. Redundancy results in less-brittle systems, and provides defense in depth. We need multiple organizations with overlapping capabilities, all helping in their own way: FEMA, DHS, the military, the Red Cross, etc. We need overcapacity, in water pumping capabilities, communications, emergency supplies, and so on. I wrote about this back in 2001, in opposition to the formation of the Department of Homeland Security. The government's response to Katrina demonstrates this yet again.
Posted by dymaxion at 12:42 AM | Comments (0)
Enjoy surveillance
Peter Weibel: Observation is not a menace; observation is entertaining. Surveillance is enthusiastically enjoyed.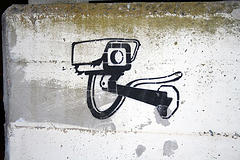 A blog that revels in surveillance and a Flickr set of surveillance cameras.
Via Media Teletipos.
Posted by dymaxion at 12:05 AM | Comments (0)
September 06, 2005
For Skype, Tense Moments, New Deals
With the big three - Yahoo, Microsoft and Google - making their respective moves into the Voice-over-IM space, it is very likely that folks over at Skype are feeling the heat. Recent moves indicate, that company is slowly coming to terms with the harsh reality that easy growth in the west is over. So perhaps it is looking east.
There is news that Skype will be bundled with all Sony Vaio PCs sold in Japan, a good move given the strong presence of Sony in one of the most broadband-enabled countries. Then there is an increasing coziness between Hutchinson Whampoa of Hong Kong and Skype. Dow Jones reports that HW might buy 5% stake in the company. (There goes the IPO theory!) There is some boneheaded comment about Skype being valued at several billion euros. Oh well… Andy says he won't be surprised by a handset joining the investor ranks as well. The company today announced a JV with TOM Online (also owned by the same guy who owns HW) which is majority owned by TOM, and will push the software/service to its wireless mobile customers.
But that's just in recent days. I have received emails from Skype PR telling me that there are 400 partners who have developed Skype related hardware and software, and more will follow. They made the announcement on SkypeWeb and Skype Net. The company has been secretly reaching out to developers trying to use Skype API and Skype Platform. They realize that with the big three's marketing muscle, their IM/Presence platform is under threat. The Gizmo Project guru Michael Robertson, is not impressed and says that Skype API is not really an API.
Skypeweb and skypenet are just a smoke screen to convey that Skype is opening up, but they are really not. If you have to download a program (THEIR program) to talk to it that's NOT an API. An API lets you talk to the service/format using a completely different program. Skype wants to SAY that they are open and that they have an API when they really don't. They wrap their declaration in a friendly puffed up "we want to give back to the net". And it's not coincidence this came 2 days AFTER Google says they actually will use open standards and connect directories to others.
Posted by dymaxion at 11:06 PM | Comments (0)
Google Maps Shows Katrina Aftermath
Google created a special satellite view of New Orleans using imagery taken on Wednesday, August 31st. Search Google Maps for New Orleans to see it (you can then switch between "Map", "Satellite", "Hybrid", and "Katrina").
Posted by dymaxion at 10:00 PM | Comments (0)
'Miracle mouse' grows back damaged organs
A"miracle mouse" that is capable of regenerating its own organs has been discovered by a Ellen Heber-Katz, professor of immunology at the Wistar Institute.
via Times Online | KurzweilAI


"We have experimented with amputating or damaging several different organs, such as the heart, toes, tail and ears, and just watched them regrow," she said. "It is quite remarkable. The only organ that did not grow back was the brain.
e injected foetal liver cells taken from those animals into ordinary mice, they too gained the power of regeneration. We found this persisted even six months after the injection."
Posted by dymaxion at 09:59 PM | Comments (0)
Modulobe: Virtual Creature Simulator
Modulobe is a fun and free tool for creating locomotive creatures. The simple interface consists of the two basic modules: shafts and links. Construct a skeleton of shafts and links, graph out the motion of your links, hit run, and watch your creation go.
via wmmna
Posted by dymaxion at 09:57 PM | Comments (0)
September 02, 2005
The curse at Wine.com, and clarification
the dirty underbelly of the private equity business. I think it's fair to say that every venture investor has been in a situation where a single investor is using their cap table power to push forward their own agenda even if it brings harm to the company or the co-investors. This is why things like voting rights and protective provisions are really really important details of a venture financing event.
Link: SiliconBeat: The curse at Wine.com, and clarification.
Basically, though, Kitze is about to lose most of his money in Wine.com after a group of tough-nosed investors snatched the company away. Kitze isn't talking, but other players confirmed the outcome of the valley's latest blood battle.
Posted by dymaxion at 01:13 AM | Comments (0)
Death to the Games Industry
Greg Costikyan has an article up on The Escapist railing against the current state of the industry. Bigger budgets, obese publishers, and creatively dead franchises that continue to see publishing are snuffing out the opportunity for innovation in an increasingly mainstream market. From the article: "For the sake of the industry, for the sake of gamers who want to experience something new and cool, for the sake of developers who want to do more than the same-old same-old, for the sake of our souls, we have to get out of this trap. If we don't, as developers, all we will be doing for the rest of eternity is making nicer road textures and better-lit car models for games with the same basic gameplay as Pole Position. Spector is right. We must blow up this business model, or we are all doomed. What do we want? What would be ideal? A market that serves creative vision instead of suppressing it. An audience that prizes gameplay over glitz. A business that allows niche product to be commercially successful - not necessarily or even ideally on the same scale as the conventional market, but on a much more modest one: profitability with sales of a few tens of thousands of units, not millions. And, of course - creator control of intellectual property, because creators deserve to own their own work."
Posted by dymaxion at 01:11 AM | Comments (0)
Toshiba pushes back launch of HD DVD
You won't be able to buy an HD DVD player during this holiday season, as Toshiba has decided to postpone the launch of HD DVD devices until 2006.
Posted by dymaxion at 01:03 AM | Comments (0)
Aerial survey of Katrina damage
NOAA posts more than 350 aerial images of areas decimated by Katrina.
You can download zip files or use a clickable interface. The 2MB-3MB images are not rotated, so if you're comparing the
eastern mouth of Bay St. Louis
(3MB) to a
Google Map image
, for instance, you might have to tilt your head and zoom before the damage really hits you.
Posted by dymaxion at 12:58 AM | Comments (0)
Rapex - Rape Prevention
Consider this:
The United Nations says South Africa has the world's highest per capita rate of reported rapes - 119 per 100,000 people. Analysts say the total, including unreported rapes, could be nine times higher.
Then consider the device in question: an internal "trap" designed by a South African medical technician to thwart rapists by sticking barbs into their penis upon entry. All kidding aside, I think the upper hand this gives women during a rape far outweighs the criticism proffered in this article. It will definitely convince people to think twice, even if its mere existence acts as a deterrent.
Controversy in South Africa over device to snare rapists [SMH.com.au]
Posted by dymaxion at 12:51 AM | Comments (0)
Google Expands Controversial Book Scanning Program
: Some companies programs that come under fire and could be headed for court but not Google, which is expanding its controversial book scanning program. Google's goal of creating digital, searchable versions of every book has been stymied by protests from U.S. publishers concerned about protecting copyrights. But while much of the U.S. project is stalled, Google has gone global -- launching stand-alone book search services in 14 countries where users can now do English-language keyword searches and read specific passages.
At the same time, another major publishing association -- Text and Academic Authors Association -- is protesting Google's offer to let publishers opt out instead of opt into the program. (via
Marketing Vox
)
Posted by dymaxion at 12:40 AM | Comments (0)
Class Action Lawsuit Against Sneaky Adware Firm Moves Forward
Adware firm Direct Revenue is having a bad week. The firm, who has one of the worse reputations among adware firms (none of whom have a particularly good reputation, of course), not only ended up
laying off
a number of employees, but also has experienced a setback in the class action lawsuit against it. Direct Revenue tried to have the lawsuit dismissed by claiming that everyone who had their software obviously agreed to it by clicking through the EULA. While even that is questionable based on some of the company's
past actions
, the judge clearly didn't buy the whole EULA argument and has
allowed the case to move forward
. Even better, the judge made it clear that the claim that adware ads aren't a burden since users can just click to close them isn't a legitimate line of arguing either: "This argument ignores the reality of computer and Internet use, and plaintiff's allegation that part of the injury is the cumulative harm caused by the volume and frequency of the advertisements. The fact that a computer user has the ability to close each pop-up advertisement as it appears does not necessarily mitigate the damages alleged by plaintiff, which include wasted time, computer security breaches, lost productivity, and additional burdens on the computer's memory and display capabilities." It's also worth noting that the judge allowed the case to not only include Direct Revenue, but also advertising firms that send ads through Direct Revenue. The ad firms tried to get out of the case by saying they just serve ads, but the judge makes it clear that they knew they were serving ads through Direct Revenue's "spyware" (the judge repeatedly refers to the software as spyware), knowing that such ads would pop up and potentially interfere with the computer user. Should be an interesting case to follow.
Posted by dymaxion at 12:33 AM | Comments (0)
MSN Searches RSS Deeper!
Some new search operators are working over at MSN
Feed: will return any RSS or ATOM documents that contain your query terms
Hasfeed: will return any site that links to an RSS or ATOM feed and returns for your query term.
You can check out some samples here [Robin Good]

Posted by dymaxion at 12:18 AM | Comments (0)
September 01, 2005
Everything You Know isn't True
There is a fascinating new study out in PLoS Medicine called "Why Most Published Research Findings are False". It's well worth reading, and a great reminder of how important it is to understand statistical power, bias, and replicability when considering...
Posted by dymaxion at 11:33 PM | Comments (0)
Are Traffic Power Hastily Covering their Tracks?
Many people believe that the phoney forums that started appearing last september that promoted Traffic Power, and affilated companies, and trashed individuals, forums and companies that criticized them, were built by Traffic Power themselves. No brainer really, but there's no hard proof. Well, it appears t...
Posted by dymaxion at 11:25 PM | Comments (0)
Judge Declares Open Season on Spyware
NMR report that a Judge has ruled that individuals can claim tresspass, negligence, consumer fraud, and computer tampering against spyware companies. The ruling was made in the Direct Revenue case that started earlier this year, and effectvively proclaims open season on spyware firms. ...
Posted by dymaxion at 11:24 PM | Comments (0)
Conferences on artificial intelligence
Five international conferences will take place in this year's "ICS - International Conference Summer Koblenz 2005" series between the 5th and the 17th September. The organisers are the Arbeitsgruppe Knstliche Intelligenz (Working Group Artificial Intelligence) of the University of Koblenz-Landau. Approximately 400 scientists from around the world are expected.
Posted by dymaxion at 11:10 PM | Comments (0)
Aaron Sued
I've been sitting on this story, wondering if it was a bluff and would just blow over. Perhaps not. Surely TP cannot be serious? Danny Sullivan: "Whatever reputation improvement Traffic Power thought it might be gaining through such an action has just gotten worse. Small sites may react to the chilling effect of being sued. Larger publishers won't -- and many more of them just learned about
Posted by dymaxion at 10:59 PM | Comments (0)
Gold Investing Blog - Genuinely Objective Advice, From a Gold Dealer???
The latest addition to The Stock Market Blog Resource Page neatly illustrates the risks of the blogosphere and why readers need to understand the sources of their investment advice:
Gold Investing Blog is written by Jordan Peters, who started a 23 year career in gold investing from the time he became general manager of "a leading $23 million gold and silver investment firm", and says that he has also been a full time writer for the past 15 years. He describes the blog as covering "all issues gold and gold investing", and says he reacts to current gold news without assuming a whole lot of prior knowledge from his readers. But here's the problem. The blog is "brought to you" by Buy Gold at Cost, an online gold coin dealer, and the exact financial relationship between Mr Peters and Buy Gold at Cost is not disclosed. (Is Buy Gold at Cost the "leading $23 million gold and silver investment firm" that he is/was general manager of?) Whatever the relationship, it's likely that Mr Peters is strongly conflicted. Sure enough, the blog is relentlessly bullish on gold, and includes a post titled "Gold Coins, A Primer". Importantly, it fails to mention that the gold exchange-traded funds (GLD and IAU) are a significantly cheaper and easier way for most investors to buy gold than purchasing physical gold coins, despite the fact that at least one other gold industry expert has confirmed that. Still, if you want the bull case on gold, you'll find it here. Launched in April 2005, with roughly one post per day.
Posted by dymaxion at 10:33 PM | Comments (0)
Comparing Search Engine Results
Are you only using one search engine? Depending on the topic of interest, you may be missing out on relevant information.
Dogpile's search comparison tool does a nice job visualizing the differences in top ten results among Google, MSN and Yahoo!. (You can also substitute one of those for Ask Jeeves to compare the results of that service.)
Other Web sites that compare search engines include this interesting visualization of Google and Yahoo! results. Another site gives you a side-by-side screen of these two.
[posted by Eszter]
Posted by dymaxion at 09:34 PM | Comments (0)
Making More Legitimacy Services
Jim Moore writes, "The world of informal media now has two main legitimizing institutions, each of which has its strengths and weaknesses".
- The first are the A-list bloggers - They hold their places in large part because they do important work for the community, and they do it diligently and well. They got where they are by dint of contribution. The downside is that network effects have locked these folks in, and they represent a particular subset of the burgeoning world of informal media . It is difficult for new folks to break in now, and this may become a problem as the blogosphere expands.
- The second is Google page rank. Non-transparent, mysterious, but very legitimizing for some purpose. Essentially, Google turns the links that folks maintain on their web sites-the link rolls, the pointers, etc, into an implicit tagging system. The good news of this system is that it can encompass an almost infinite range of topics, as many topics as can be meaningfully described in keyword searches . And it is quite open in that a new, ermergent topic can be established, gather a cluster of links, and become searchable without any human intervention or permission and even notice on the part of Google. The downside is that Google ratings do not show much personal expert judgement, they are slow to stabilize around a new topic, and tend to point to works back in time rather than current contributions. Of course there are legitimizing institutions, with powerful if specialized influence like Slashdot . Commercial blogs like Boing Boing are playing an important role. Tags on de.licoi.us are coming on strong, within the community of active, hard core digerati. But we need a lot more.
Category :
Legitimacy
Posted by dymaxion at 09:15 PM | Comments (0)
Offshoring – Watershed Deal – The Largest IT Deal
There is a huge jubiliation in the India HQ companies community about the ABM AMRO deal ammounced today.After a careful analysis of the options, ABN AMRO says it has chosen an IT service solution that encompasses in-house consolidation, partial outsourcing, multi-vendor strategies and offshoring.Further streamlining of the bank's global IT organisation will lead to an improved performance of all IT services and to significant efficiencies. ABM AMRO has signed global services agreements with five IT-vendors for five years, for a total value of approximately EUR 1.8 billion.
The selected vendors are:
- IT Infrastructure: IBM
- Application Support and Enhancements: Infosys, TCS
- Application Development: five preferred suppliers Accenture, IBM, Infosys, Patni, TCS
This is awatershed deal in many ways - this represents the largest sum committed by a Western firm to Indian IT-services vendors. ABN Amro is said to want to move more than 2,000 IT jobs to India to take advantage of the country's low cost environment.This is also the largest deal won by an Indian IT services company ever.TCS says it plans to leverage its global delivery model through centres in Latin America and Hungary and it will manage a major part of ABN AMRO's Application Support and Enhancement services for its operations in the Netherlands, Brazil as well as its Private Client Business globally. This is the first multi-national global engagement that allows TCS to utilise its Global Delivery Model (GDM) in its entirety. In addition to its large development centre in India, over 500 consultants will work from TCS' Global delivery centres in Brazil and Hungary. Well, the rules of the outsourcing game has significantly changed - bloated western firms which thought that India HQ firms can never win major deals and publicly deriding them while intensly fearing them within should undersstand reality - setting up huge development workforce alone would not make them more than equal - its the ethis,the spirit to win and move ahead thats making the difference.Deals like this would be spoken of when the history of outsourcing gets written in future. No room for complacency here for Indian HQ companies - managing mega engagements are not the same as managing medium size deals - but the companies that have won the deal have time and again proven their mettle in conquering new forntiers.Moving forward, the the basis of competition for IT providers, Indian or multinational companies, will no longer be cost-competitive, within-budget deployment of technology. It will soon change to the improvements in clients businesses that can be enabled by these service providers. IT firms have to now turn themselves into partners, helping their customers shape their business future, not merely their technology future. This means IT firms have to now acquire the capability to design potential business scenarios that incorporate and examine various technology alternatives, simulate them, and test them for attractiveness. Future competitive advantage will, in large measure, be defined by mastery over Business Solutions. Exciting times lay ahead for the well prepared and the difference between winners and also ran shall keep widening.
Category :
India HQ Software Companies
Posted by dymaxion at 08:48 PM | Comments (0)
Nano-material Harder than Diamonds
A new material known as aggregated carbon nanorods (ACNR) has been created by packing buckyballs under 200 times the normal atmospheric pressure and heating it to 2226°C. ACNR is 0.3% denser than ordinary diamond and more resistant to pressure than any other known material.
via nanotechweb | NS
Posted by dymaxion at 08:35 PM | Comments (0)
亞洲禽流感疫情繼續擴散
流行感冒將造成本世紀初的大浩劫?國家衛生研究院日前公開警告,一場可能造成台灣五百三十萬人感染,一萬四千人死亡的流感疫情,最慢二○○八年將會發生。國衛院將推出三項緊急應變的疫苗及藥物生產計畫,但因生產規模小,能否挽回這場流感浩劫,十分令人擔心。
國衛院院長吳成文日前率領研究團隊指出,流感疫苗自製能力完全建立前,國衛院將自今年底先建構流感大流行的緊急應變措施,一是在年底前發包興建流感疫苗先導工廠,預計二○○七年完工投產,產能一百萬劑;除了疫苗之外,流行感冒一旦爆發大流行,政府將啟動緊急應變措施,打破現有專利限制,以最短時間生產羅氏藥廠的抗病毒藥物「克流感」,預計可在最短時間內生產出十萬顆藥物。
國衛院疫苗研究中心主任莊再成表示,如果不幸流感出現時間在先導工廠完工的二○○七年之前,屆時政府第三波應變措施,將透過全台第二級安全實驗室,生產出十萬劑的小量流感疫苗。
根據國衛院估計,台灣每年庫存的流感疫苗為二十二萬劑,一旦出現流感大流行,全台僅有百分之一的人口可分配到流感疫苗,莊再成也說明,小型流感疫苗及抗病毒藥物,將優先供應給醫護人員使用。
至於疾病管制局最近才要送到行政院審核的「流感疫苗自製計畫」,將面臨「遠水救不了近火」,無法協助未來五年出現的流感疫情。
國衛院臨床組主任蘇益仁說明,為了建立我國流感防疫能力,政府日前派出六位專家前往東南亞泰國、越南及香港等地考察。
蘇益仁警告,今年起,越南及泰國等國家已開始傳出禽流感(H5N1)出現動物傳染人類的病例,預期最慢在二○○八年以前,H5N1演化為人傳人的流感病毒後,將為全球帶來一九一八年以來最大規模的流感災情。
CollectionWebService/c.gif?space=finback120&page=RSS%3a+%e4%ba%9e%e6%b4%b2%e7%a6%bd%e6%b5%81%e6%84%9f%e7%96%ab%e6%83%85%e7%b9%bc%e7%ba%8c%e6%93%b4%e6%95%a3&referrer=" width=1 height=1 border=0 alt="">

From finback (feed)
See also links to this feed and more from this feed
Posted by dymaxion at 01:51 PM | Comments (0)