« Google is Building Yahoo 2.0 |
|
Microsoft's Online Push »
November 11, 2005
Public Trust and the Secret at the Heart of the New Voting Machines
Dark Source: Public Trust and the Secret at the Heart of the New Voting Machines.
Dark Source shows the inner workings of a commercial electronic voting machine, the Diebold AccuVote-TS™ touch-screen voting terminal that has recently been adopted in many U.S. states. This type of voting machine is called a "Direct Recording Electronic" machine which means that it records votes electronically in its memory, counts them, then transmits the result to a central election management system (whose software is also provided by Diebold). Dark Source presents over 2,000 pages of software code, a printout of 49,609 lines of C++ that constitute version 4.3.1 of the AccuVote-TS™ source code. A systematic study of this material could demonstrate how votes are recorded, tabulated, stored, kept secure, and reported by this machine.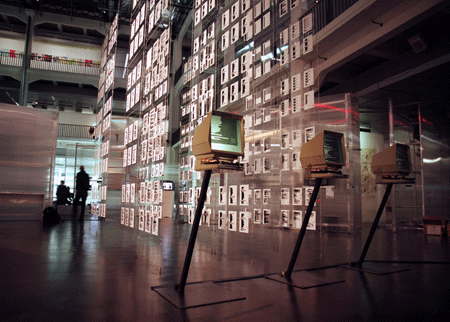 Calling its source code a trade secret, Diebold has asserted its proprietary interest in protecting its intellectual property. Therefore in Dark Source the code, obtained freely over the internet following a 2002 security failure at Diebold, has been blacked out to comply with trade secrecy laws.
What is on display is not the forbidden source code, but rather the state of affairs in which we find ourselves today, one in which the critical infrastructure of democracy in the United States is becoming privately owned, and being private, is also being made secret.
By the uber-talented Ear Studio.
Posted by dymaxion at November 11, 2005 04:59 PM
Comments
Post a comment